By Natasha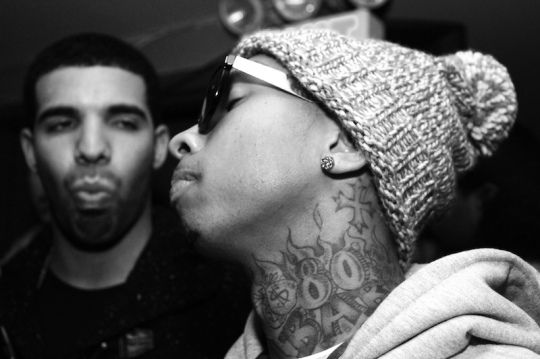 Remember a few months ago when Tyga revealed he doesn't get along with former YMCMB labelmates Drake or Nicki Minaj? Well Drake just came for him on his new mixtape. And Tyga isn't having it. Deets inside, plus news about a brand new tour for Nicki Minaj and her rumored boo Meek Mill…
While you were sleeping, NYC was on fire with Fashion Week kickoff events, NBA All Star events, a Diddy and Snoop concert, a Kanye West concert…..and then the world received a present from Drake: A surprise mixtape.
It's called If You're Reading This It's Too Late. And he's holding back nothing on the 17-track project. He talks about all his enemies on the "Energy" track…and then there's that "6PM In New York" track. He talked about rappers who call the paparazzi to show off their outfits. And then he said this:
Yep…a diss at Tyga that alluded to his underaged girlfriend Kylie Jenner. So Tyga popped back on Twitter, and deleted it. But we've got the screenshot:
Ish is getting real…
Speaking of the Young Money camp, Nicki Minaj is making the news this morning due to a tour she just tipped off the media about. And yes, it's all in partnership with her rumored boo Meek Mill.
Nicki posted the above pic recently saying:
Why do ppl invest so much time & energy into other peoples' lives? Spend your time planning your future and living your dreams.
So why is she voluntarily posting publicly about this personal life she wants the public to stop commenting about? Well, we've learned she and Meek Mill are working on a co-headlining tour. And the first show is this Saturday, Valentine's Day, in NYC.
Hmph.
TMZ reports they're billing themselves as the "Hottest Rap Couple", and they have another performance date later this month in Charlotte. And then there's this:
We're told the couple wanted to do it together so they could, y'know — make twice as much cheese touring as a package deal. Also, it's easier to hook up this way.
Although they're co-headlining … make no mistake, Nicki's the bigger draw — and we're told she's getting paid almost double what Meek makes.
Were they friends before all the tour talk? Absolutely? Is it possible Nicki and Meek parlayed the friendship into making the public think they're dating in order to sell more tickets? Absolutely. It's also possible they're legit dating….
Nicki did an interview with Vogue.com recently who asked about their relationship. She responded:
Sometimes we hang out, and when we hang out, we have fun. [laughs] This is what I want to say about him: People think for some strange reason that we just started becoming friends recently. We've been friends for a very, very long time, and he's been around for a lot of things that I've gone through. And that's all I'll say about that.
She also talked about how she'll live differently this year and have some fun before the tour, after working so hard to get to this point
This year, I decided that I'm going to live my life. Because I love making music but I need to live my life, and I need to realize that people are going to talk about me no matter what. They don't know who I am. And it's kind of sad because I've done so much for so many people, but I haven't taken a moment for Onika. But this year, I'm taking a moment before the tour. I'm going out and having fun because none of this is guaranteed. I'm not living my life for social media and people who don't know anything about me anymore—for them to give me a stamp of approval. It doesn't matter to me anymore.
Well this should be interesting…
Photos: Twitter