Katy Perry, co-chair of the 2017 Met Gala, was one of the first to arrive on the red carpet Sunday night. But you might have missed her if you weren't looking closely enough. 
The "Chained to the Rhythm" singer wore a layered red Maison Margiela Artisanal gown complete with a tulle head covering and a headpiece that appears to spell out the word "Witness." Which, as fans on social media pointed out, may have been worn tease an upcoming song release. 
John Shearer via Getty Images
Yes, Katy Perry is under there.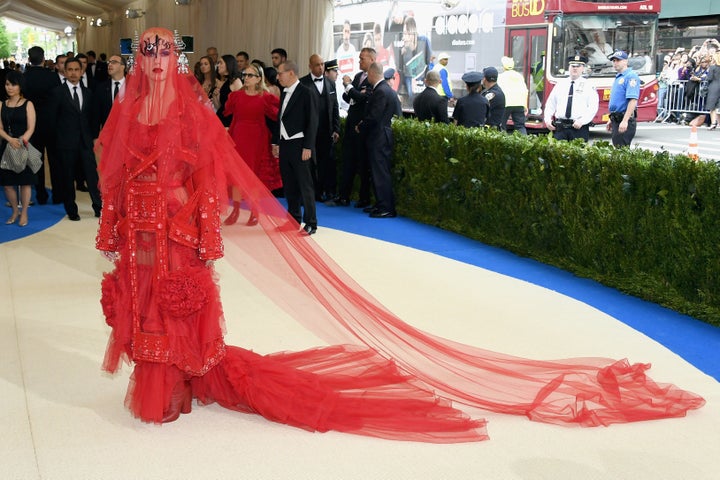 Dia Dipasupil via Getty Images
Wowza. 

As The New York Times' Vanessa Friedman pointed out, it may have been a way for Perry to pay tribute to Kawakubo through John Galliano, the creative director at Maison Margiela:
Katy Perry in Maison Margiela Artisanal, which I guess translates as John Galliano's ode to Rei Kawakubo. https://t.co/PvAskKnsnB

— Vanessa Friedman (@VVFriedman) May 1, 2017
It's not exactly life-size laundry lint as we've seen from Comme des Garçons in the past, but it was certainly a dramatic way to kick off the evening.  
See more looks from the 2017 Met Gala below: