By Natasha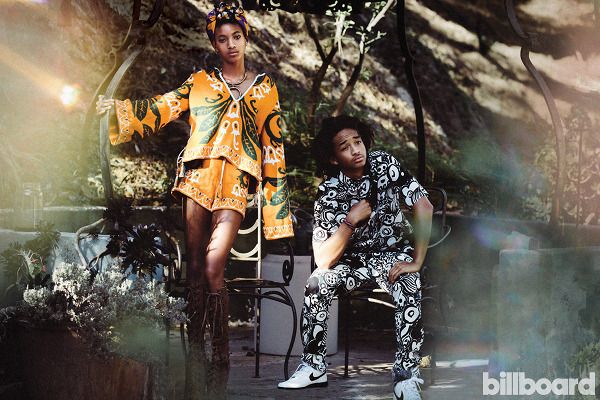 Brother-sister combo Willow and Jaden Smith know how to serve up eclectic looks that can leave us wondering how young teens like them can have so much style. Find out what they have to say, in a new interview for Billboard, about their talent and their outlook on the music industry inside….
In a brand new Billboard Magazine photoshoot, shot by Olivia Malone, 14-year-old Willow & 16-year-old Jaden Smith are serving up sibling magic. They're giving their open minded take on music, including their dad Will Smith's "old stuff," driving lessons, and why they totally stay away from autotune.
Jaden on listening to his dad's music: "My dad is awesome. I wouldn't be where I am right now if it wasn't for all of the things he's taught me. He's taught me a lot about driving and just about life. And I love his songs, I go back and re-listen to those songs and the newer songs he's made in the studio too."​
Jaden on his musical style: "Everything that I talk about in my music is pretty much just trying to evolve consciousness in the world and help everything become better and brighter. I've never written out my lyrics before, I just go in and freestyle and say what's on the top of my mind."
Jaden on his musical inspirations: "Kanye, Jay Z and Willow — those are all people I watch out for. The music Willow listens to is really really interesting. She's really amazing, probably my favorite artist and we collaborate any time that we can."
​Willow on not being a fan of autotune: "I don't like having any effects on my voice, I feel like putting a lot of Auto-Tune on it really covers up the essence of you and is like putting a cloud over real true emotion.
Willow on her musical inspirations: "When I was younger, my brother and I toured with my mom's [Jada Pinkett Smith's] band, Wicked Wisdom, so heavy metal was one of the first types of music I heard a lot and I'm still really inspired by it. I'm into Lolawolf [Zoe Kravitz's band], Tune-Yards, the Runaways, Pink Floyd, and I freaking love Bikini Kill!"
Willow on her style aesthetic: "High-fashion nomad. I could literally climb a mountain and survive a couple nights in nature."
Willow on her outlook on life: "When I'm just by myself and walking around and just looking at the world happening around me, those are the moments that really inspire me. Those moments where the mind is completely gone and you're just looking at the beauty of something. When I'm crying and I'm sad about something, I'll just sit there and be like, this is the beauty of life."
Check out more pics of the siblings from their shoot in Laurel Canyon below, and get their full story HERE:
Beautiful.