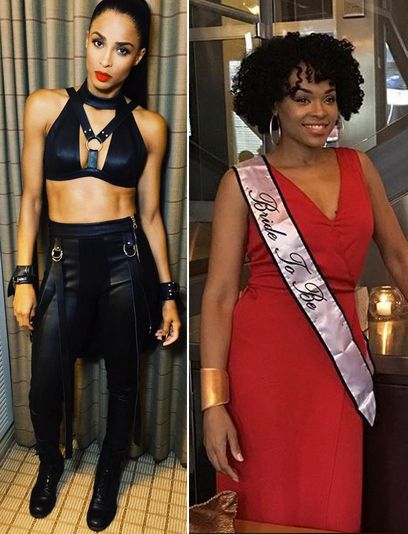 It was a weekend of fun for Ciara and Demetria McKinney. Check out CiCi's CFB Playoff concert performance inside, plus go inside Demetria's bridal brunch…
CiCi booked it to Phoenix this weekend to rock the ATT Playlist Live concert ahead of the upcoming College Football Bowl Championship Game. She put on her cut-out leather bra top and pants to rock the stage downtown:
After snapping a few pics before heading out, the sexy singer got a police escort to the venue:
She posted the pic with a simple "Thank You Boyz."
Check out a snippet of her performance below:
Her boyfriend Russell Wilson is currently taking on the Minnesota Vikings in -3 temps in a do-or-die wild card playoff game. We know she's cheering on her boo!
Down in Atlanta:
Demetria McKinney is wasting no time celebrating her upcoming wedding. And we can't even blame her.
Now that she and longtime boyfriend Roger Bobb are engaged, her friends and publicist Anje Collins threw her a fabulous bridal brunch yesterday at Suite Lounge ATL:
The ladies toasted with champagne and cupcakes. The bride-to-be wrote:
Had a great time today celebrating my engagement with a few friends!!!!!thank you @anjemiami Love u chica!
By @jaxonsdessertbar via @RepostWhiz app: @demetria4real engagement brunch today at @suiteloungeatl #demetriamckinney #demetriabridetobe #jaxonspopcorn #jaxonspastries #jaxons #ChefsofLA #ChefsofATL #CULINARYFAMILY #pastrythug #PASTRYQUEEN #popcorn #desserts #gourmet #deliciousness #foodies (#RepostWhiz app)
A video posted by Demetria McKinney (@demetria4real) on Jan 9, 2016 at 2:41pm PST
Sweet. And the menu was nothing to scoff at either:
Congrats Demetria!
Photos: @dedraallenhair IG/Demetria's IG/ @icecreamconvos_ IG