Multiple Chicago communities are uniting in solidarity Sunday evening in light of Saturday's tragedy, where the lives of 11 innocent people were taken away by a gunman who stormed into the Tree of Life Synagogue in Pittsburgh, Pennsylvania.
"This is a terrible day for all of America, not just for our friends in the Jewish community in Pittsburgh but really all Americans," said Steven Nasatir, president of the Jewish United Fund of Metropolitan Chicago.
The Rainbow PUSH coalition, along with a dozen civil rights, Jewish, Muslim, Christian and women's organizations are scheduled to hold a vigil at 5:30 p.m. Sunday, at the Federal Plaza (across the street from 219 S. Dearborn Street), according to a press release.
"We will not surrender to bigotry, violence or terror," said Rev. Jesse L. Jackson, Sr., founder and president of the Rainbow PUSH Coalition. "We will always stand up to and speak out against the vile and dangerous movement that is trying to rip apart the ecumenical fabric of America."
Chicago Jewish Community Expresses Sorrow After Shooting
The vigil will also "honor the memories of two elderly African Americans randomly gunned down last week by a middle-aged white man at a Kentucky grocery store," the statement read.
"Our hearts are with the people of Pittsburgh, the Jewish community, and the families of each of the victims, in the wake of this terrible tragedy," said Mayor Rahm Emanuel and Police Superintendent Eddie Johnson in a joint statement."While there are no threats to religious institutions in Chicago at this time, the Chicago Police Department is closely monitoring this situation and providing special attention to all synagogues throughout Chicago."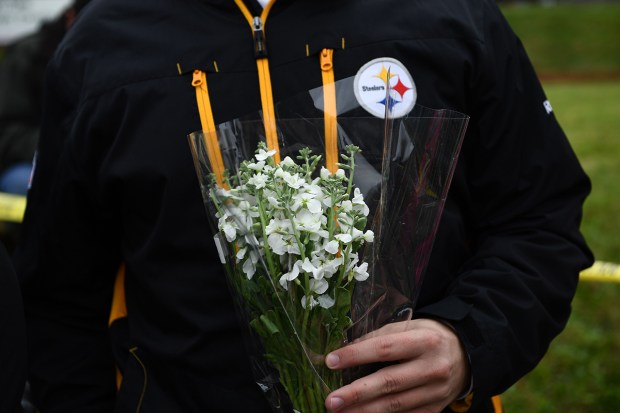 PHOTOS: Pittsburgh Reels After Synagogue Shooting
In addition, local Jewish leaders are calling for a solidarity Shabbat involving all of the synagogues in the city, scheduled to take place next Saturday
"We must not accept ethnic blaming and intolerance," Rev. Jackson said at the KAM Isaiah Israel synagogue. "We must not adjust to the present odorous climate. We must resist together. We've come too far to achieve the America of our dreams to surrender now."