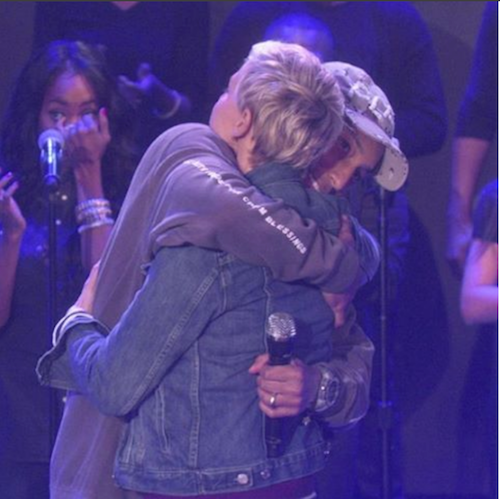 Since Kim Burrell messed around and got disinvited from 'Ellen,' Pharrell Williams did the show without her today. And they talked about the latest drama. Janelle Monae also sat down with Ellen for the first time. Details inside….
Ellen and the Pharrell Williams spoke today about the importance of inclusion, and the values that make a world of difference. It all stemmed from Kim Burrell's latest fiasco where she singled out "perverted homosexuals," talked ish about Eddie Long, and damned everybody to hell.
Kim's judgmental words, whether she was "preaching from the word" or not, cost her an appearance on one of the biggest talk shows in the game, which is hosted by the openly gay Ellen Degeneres.
Interestingly, we hear she already has a chip on her shoulder because she doesn't feel she's gotten the mainstream due she deserves. Well, if this latest mishap is any indication of how she operates her Hollywood relationships….
Pharrell, who wrote the entire Hidden Figures soundtrack, was originally scheduled to do perform his and Kim's duet "I See A Victory."
Ellen said that since Kim said some "not nice" things about homosexuals, she didn't feel it was right to have her on her platform as Kim was, indirectly, talking about her.
Pharrell said, "There's no space, there's no room for any kind of prejudice in 2017 and moving on." He continued saying this is a big and beautiful world, and it only works with diversity and inclusion. He said, "Live and let live, love and let love."
He went on:
"Whenever you hear some sort of hate speech and you feel like it doesn't pertain to you because you may not have anything to do with that, all you got to do is put the word black in that sentence, or put gay in that sentence, or put transgender in that sentence, or put white in that sentence, and all of the sudden it starts to make sense to you,"
Ellen revealed that since she's been an oppressed person, she's more sensitive to others being oppressed and hurting others with words. Oddly, this didn't seem to be the case with Kim.
Also, Grammy-nominated singer and Hidden Figures star Janelle Monae sat down with Ellen for the first time to chat about her remarkable new film roles.