By _YBF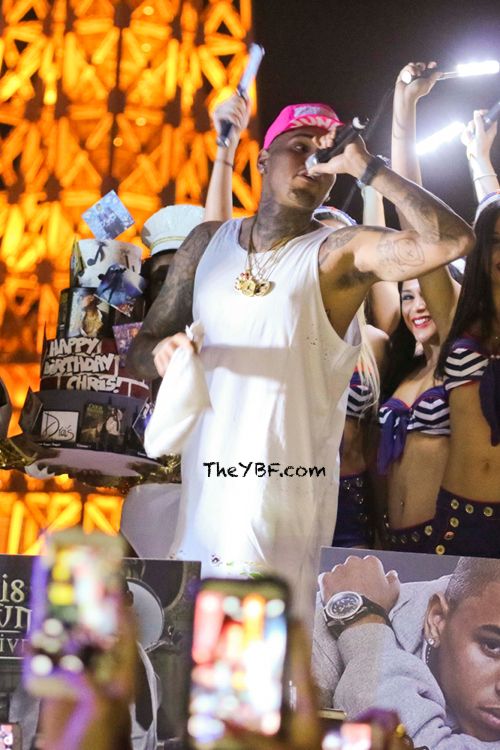 Chris Brown celebrated his 26th birthday with a huge party and live performance in Las Vegas last night. See pics from the party (which Floyd Mayweather attended) inside and listen to audio from Mariah Carey's "#1 to Infinity" dress rehearsal…
Chris Brown, who recently kicked off his Las Vegas residency at Drai's Beach Club, celebrated his 26th birthday last night following his live performance. He even rained expensive champagne on the crowd of fans who wished him a happy birthday.
In addition to well wishes, Chris got some good news from the police department (for a change). Shortly before he popped those bottles, he was told that no charges would be filed against him following an alleged fight during a pickup basketball game at 3 a.m. Monday morning. Whew! He dodged that bullet!
Now Chris can put his focus where it should be….on the music!
Boxing champ Floyd Mayweather was spotted partying in the Drais VIP section with a large group of females until 4am.
In addition to Chris' 26th birthday, Floyd was still celebrating his victory over Manny Pacquiao during the "Fight Of The Century."
BONUS:
When we peeped Floyd partying with new chicks last night, it made us wonder if the Bad Medina had been replaced.
Well….she's still in the picture. She posted these pics of her boo thang yesterday.
Also in Las Vegas…
For all the naysayers who thought Mariah Carey was washed up vocally, she'll prove that she STILL has the chops during her Las Vegas residency at The Colosseum at Caesar's Palace, which starts tonight.
TMZ managed to get some audio from her dress rehearsal (shown above) and it's clear that "The Voice" is still there. The show is called "#1 to Infinity" and will showcase Mimi's 18 #1 pop hits. Also, Mariah announced that she'll perform at this year's Billboard Music Awards alongside Britney Spears and Iggy Azalea, Kelly Clarkson, Hozier, Nick Jonas, Ed Sheeran, Sam Smith and Van Halen.
The 2015 Billboard Music Awards, hosted by Ludacris and Chrissy Teigen, will air live on ABC May 17th. In the meantime, check out the dress rehearsal audio here:
Watch Mariah's opening curtains (BONUS):
A video posted by Mariah Carey (@mariahcarey) on May 4, 2015 at 8:14pm PDT
Photos via Mariah's Instagram/Bad Medina Instagram/Splash