By _YBF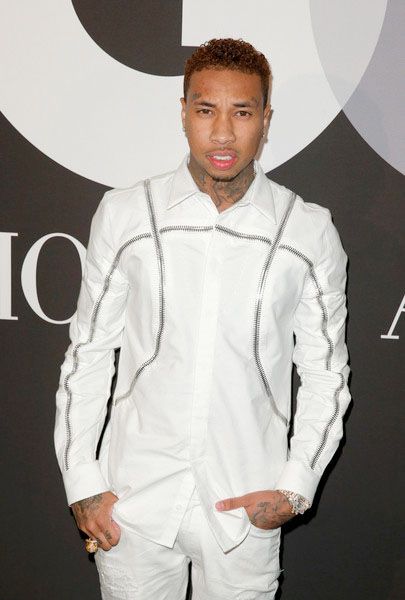 After that epic Twitter battle between Amber Rose & Khloe Kardashian, Tyga is saying his piece. Find out what he said about "dating" 17-year-old Kylie Jenner and the real reason he dislikes like Drake. Also, peep a few pics from Chris Brown and Trey Songz's "Between the Sheets" tour where they bring out G-Unit and Ne-Yo inside….
Yesterday, Twitter was abuzz after Amber Rose read Khloe Kardashian for filth after the Kardashian chick came after her over comments she made about Kylie Jenner dating Tyga. Get all of the deets here, here and here.
Now, Tyga is speaking his piece and he's still denying that he's dating the 17-year-old reality star. The "Ayo" rapper, who's currently on tour with Chris Brown and Trey Songz, hit up Power 105's The Breakfast Club this morning, after a 10-hour bus ride from Detroit, to clear the air.
According to T-Raww, he and Kylie are JUST friends and nothing more. He cleared up the rumors that he left his baby mother Blac Chyna to be with Kylie and even explained why he and Kylie spend so much time together. Mmmhmm…
He also revealed the real reason he doesn't like Drake. In so many words, he feels like Drizzy is not genuine. T-Raww also explained his "beef" with Nicki Minaj and more.
Below are the highlights:
On "dating" 17-year-old Kylie Jenner:
"Nah, I'm not dating Kylie. I want to be clear to everybody that I did not leave my family to be with Kylie. That's ridiculous. Me and Chyna broke up almost close to a year now. And because of decisions we made, things in our relationship weren't going right. I didn't leave nobody to be with anybody."
On spending so much time with Kylie:
"I've been knowing her and her family for a long time. In black culture, it's different. If you hang around somebody you smashing them. But white culture is different. They're really are friends, it's genuine, it's different. We're really friends."
On Kylie as a person:
"She's just a good person. You ever meet somebody and their energy is just good? It's not negative. She just comes from a good upbringing and I never met somebody like that."
On not getting paid by YMCMB:
"When I was saying it, I was looking bitter. I was broke when I was saying it. I was just keeping it real. I have a kid now, I can't be sitting here waiting on the next man. Wayne gave me that opportunity. I would never say anything bad about Wayne. It wasn't Wayne's fault cause you see the situation that's going on now. I don't really know who to point the finger at."
On if he has spoken to Birdman or Slim:
"I talked to Baby [Birdman]. I was suppose to be out my deal like last month that's why I was suppose to drop my album in January."
On Drake taking shots at him on his new mixtape:
"He knows exactly where my house is, I know exactly where his house is [in Calabasas]. We live next to each other, so my thing is like, if it's real it's real, if it's not, it's not. I just don't f*ck with him as a person because of the experiences I had with him personally. It's not just a beef, just personal experiences I've had with him. I feel like he's a nice guy on the outside, but he's not genuine. He plays people left and right. That's just my opinion. And when I did that interview that's just how I felt at the time."
On Nicki Minaj:
"When I did that interview, people was saying I was calling Nicki fake. That wasn't the case. I just said me and her didn't get along at that exact moment. Me and Nicki got into it over a song, but that's what brothers and sisters do, they fight. I don't have anything against Nicki. It was a song that Drake was on, it was actually "Truffle Butter". I was on the record, then it just got weird."
Hmm…he still needs more people about not dating Kylie. We're not totally convinced. Check the full interview below:
Last night…..
Chris Brown, Trey Songz and Tyga stopped through Brooklyn to hit the stage at the Barclays Center for their "Between the Sheets" tour. Breezy had a surprise guest for his fans, bringing out 50 Cent and G-Unit.
Breezy's on-again girlfriend Karrueche, who has been making her NYFW rounds, was also in attendance:
Trigga brought Ne-Yo out to perform his hit "She Knows". Check it:
A video posted by yeahimfamous (@yeahimfamous) on Feb 16, 2015 at 10:05pm PST
And Breezy shared some of the backstage madness:
A video posted by BREEZY (@chrisbrownofficial) on Feb 16, 2015 at 8:22pm PST
Unfortunately, Baltimore fans woke up to news this morning that the "BTS" show scheduled at the Royal Farms Arena tonight has been cancelled. Hmm..no reason was given about the cancellation…but some folks MAY allude to low ticket sales. The guys are slated to perform at the Verizon Center in DC on Sunday, Feb. 22nd. Guess we'll have to wait and see if it actually happens.
Before the show….
Chris & Tyga hit up "The Tonight Show With Jimmy Fallon" to tape a performance of their hit "Ayo". The two are gearing up for their joint project Fan of a Fan: The Album, which drops Feb. 24th. Peep their performance below:
Photos: Getty/Instagram