By _YBF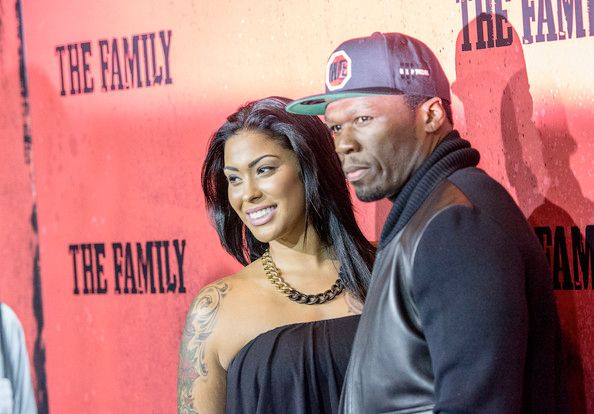 Another woman is coming forward (in her own way) making claims that 50 Cent assaulted her, and she has the pictures to prove it. Of course, 50 has already popped back. Peep the receipts inside….
Looks like there's major trouble in paradise between 50 Cent and his supposed main squeeze Tatted Up Holly. According to Holly, 50 Cent assaulted her (on multiple occasions) and she's tired of it! She sent him a threatening text saying she would release the photos of proof because he "f*cked with wrong one". Yikes.
Once she fired off a few "f*ck u" texts to her alleged lover, Tatted Up Holly (atop on the red carpet at The Family premiere in 2013) took to Instagram to show the world the text conversation she had with 50 about whooping up on her. In the IG caption, she calls the NY rapper a bully and says she will NOT tolerate a grown man putting his hands on her.
She posted (then deleted:)
While there's no proof this is ACTUALLY 50 she is talking to, Holly claims it is.
As usual, the "Power" producer took to his social media platform to start name calling. He posted a pic of Holly with the caption, "This hoe community p*ssy. Me, Trey, JR, j". And of course he took it down, but not before it was caught by the world to see.
SIDENOTE: Why does Trey Songz's name ALWAYS ends up in the middle of some relationship drama? Sighs….
Well, he didn't seem to have a problem with her allegedly being "community p****" when he was dating her.
Anyway, this isn't the first time the "Power" star was accused of domestic violence. You'll recall, 50's baby mama Daphne Joy (mother to his youngest son Sire) accused him of kicking her and trashing her condo back in 2013. And like someone with some sense, she called the police and filed a police report. The L.A. City Attorney's office ended up charging 50 with 1 count of domestic violence and 4 counts of misdemeanor vandalism. He eventually accepted a plea deal to have the charges dropped and was sentenced to 3 years probation, 30 days of community service and had to cough up $71,000 in restitution to Daphne.
50's first baby mother Shaniqua Tompkins also revealed he was abusive to her when they were together during an interview on V-103's Ryan Cameron Morning Show last year. She said once her son Marquise (whom 50 has DISOWNED) and her daughter witnessed him hit her, she decided to leave. She said he would be hitting her one minute and then crying like a baby in her lap the next. THIS guy….
So, if he DID put his hands on Tatted Up Holly, it certainly seems like he would be violating his probation. But did chick file a police report? This thing with blasting folks on social media before getting the authorities involved has become a pattern with folks.
If she does decide to bring charges against him (and he's convicted), 50 could find himself in some serious trouble.
Photos: Getty/Instagram