By _YBF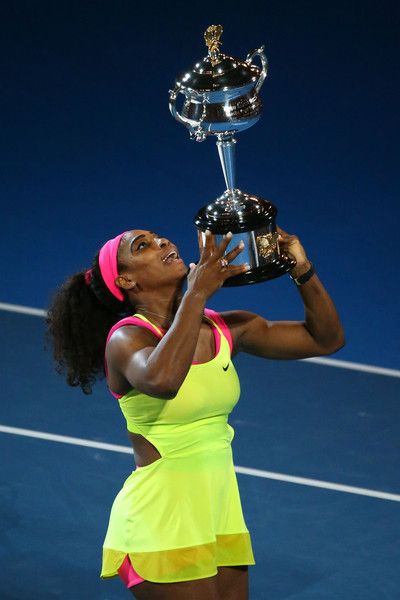 Major congrats are in order after Serena Williams won her 19th Grand Slam Title at the 2015 Australian Open. Plus, Floyd Mayweather has finally agreed to box it out in the ring against Manny Pacquiao. Deets inside….
The champ is here!
Tennis champ Serena Williams proves why she's the top-ranked female tennis player of the world. Last night, the YBF chick took home her 19th Grand Slam Title after defeating Russian tennis player Maria Sharapova at the 2015 Australian Open at Melbourne Park in Australia. This makes her SIXTH Australian Open title.
Not only did she take her the win, but she did it while not feeling 100% healthy as she suffered with a bad cough during the game. But that clearly didn't stop her from bringing her A-game! She said, "I had a really bad cough, I ended up throwing up, actually. I think that helped me when I got it out. I've just got a really bad cold, a really bad cough. Usually when that happens you stay in bed, you don't play matches every day."
We're sure she's glad she decided to battle it out anyway.
After beating her opponent (which extends her decade long dominance over Maria) the 33-year-old tennis star said, "I'm so honored to be here tonight and to hold this 19th trophy @ my favorite stadium".
Chick was making history too, becoming the oldest winner of the Australian women's title in the Open era. Congrats Serena!
In other sports news….
Boxing fans get excited! Undefeated boxing champ Floyd Mayweather has finally agreed to fight Manny Pacquiao in a mega-fight many have been waiting years to see. Looks like their recent meeting in Miami (for the first time) was productive because Floyd and Manny have come to an agreement to square off at the MGM Grand in Las Vegas. And it's reportedly supposed to go down May 2nd.
Neither of the guys have signed any paperwork, but they both have verbally agreed to fight. According to TMZ, the formal agreement will be signed, sealed and delivered soon as negotiators put the last and final details together on the deal. And if you haven't heard, the fight could raise up to $300 million in revenue. Sheesh!
Who's ready to see Floyd go head-to-head against Manny? We're here for it.
Photos: Getty