Multihyphenate Cara Delevingne can now add singer to her title. 
The 24-year-old model-turned-actress just released her debut song (complete with a music video!), "I Feel Everything," off the soundtrack for her latest film, "Valerian and the City of a Thousand Planets." As Megan Reynolds at Jezebel wrote, it "looks and sounds like an edgy Banana Republic commercial," and honestly, that is so spot on. 
The song itself is fine ― a little jazzy tune with Delevingne talk-singing lines like, "Your stare makes me freeze but I can't stay still // Those eyes keep me up longer than any other pill" ― but a song of summer, it is not. 
In the video, Delevingne smizes and rocks a suit and tie like the supermodel she is. She also wears a few different wings, like this red one: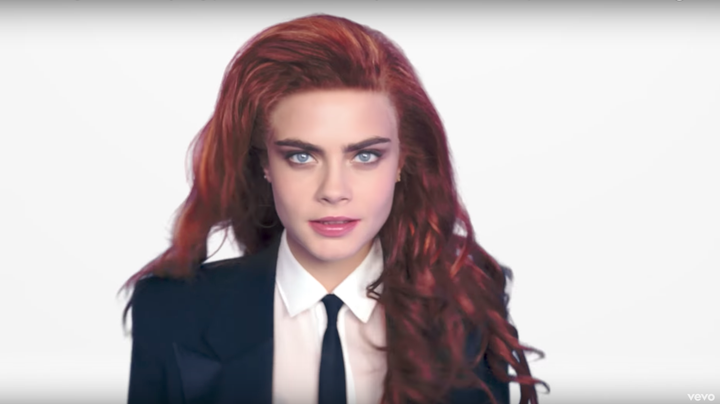 Then, she gets covered in sparkly, CGI butterfly-type things. 
For those who think Delevingne's transition into music came out of left field, it hasn't. The Brit has been crafting her career change right in front of our eyes. 
She showed off her vocal talents in this video for Love magazine, then she appeared in a song with Will Heard called "Sonnentanz (Sun Don't Shine)." She also sang with Pharrell Williams in a short film for Chanel, directed by Karl Lagerfeld. (The duo sang the song from the video live in New York at Lagerfeld's Chanel Métiers d'Art presentation in April 2015.) And apparently, Delevingne and Williams have been working on an album together for the past three years. 
We guess it's only a matter of time before Delevingne is ruling runways, red carpets and the radio.