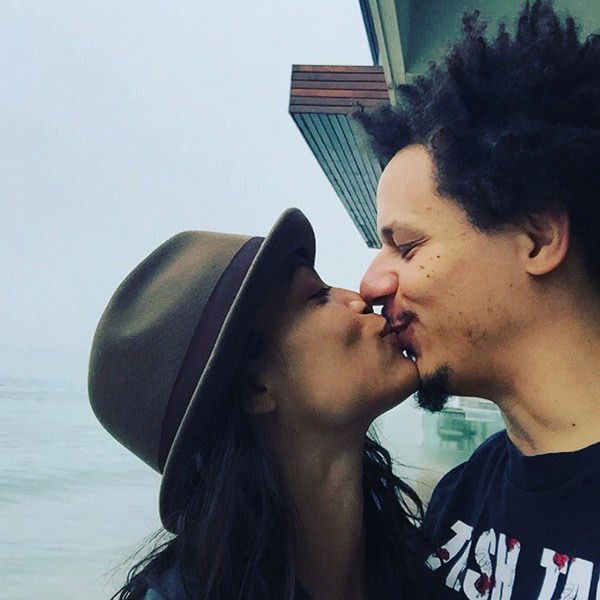 Just months after telling the world they're an ACTUAL couple, Rosario Dawson and comedian Eric Andre have SPLIT.  Deets inside…
For all you Rosario lovers, now's the time to shoot your shot.
The Luke Cage star is officially back on the market after she and her comedian boyfriend of approximately a year have called it quits.
Earlier this year, fans noticed "2 Broke Girls" star Eric, 34, posting several pics with the 38-year-old mom of one.  When nobody believed the prankster was actually dating her, the twosome decided to prove it with a few tongue-heavy shots.  Even Chance The Rapper was shocked: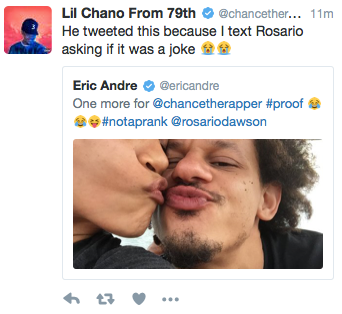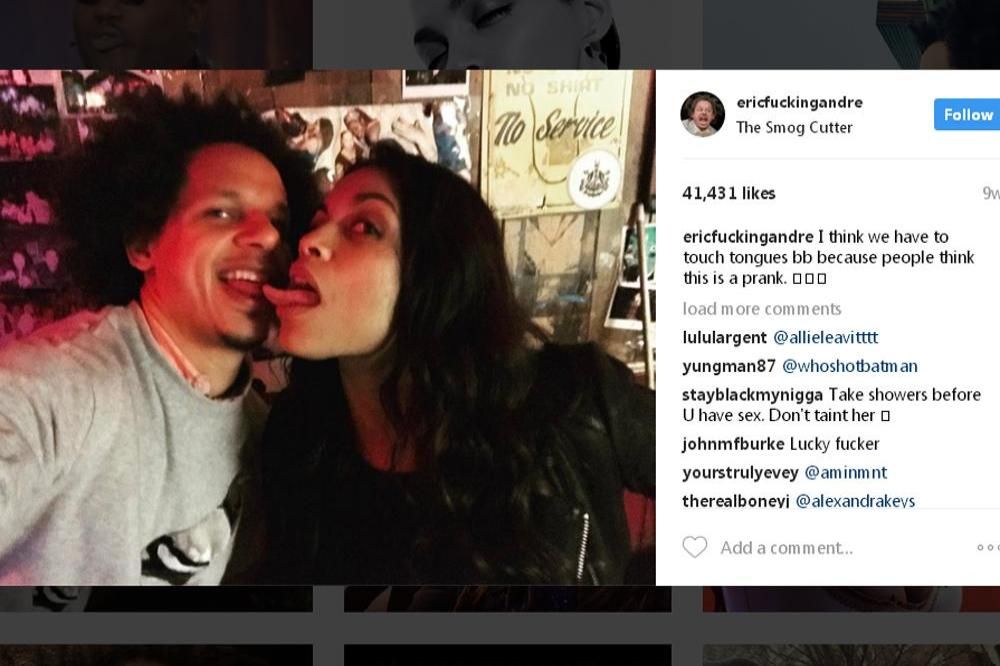 The two first went public with their relationship on Valentine's Day with plenty of PDA-filled selfies.
"The undisputed most gorgeous being on the planet," Andre wrote in a now-deleted Tweet. "@rosariodawson I love u bb  #HappyValentinesDay."
But clearly, it wasn't all as good as it seemed.
With all the lovey dovey pics the two post on social media, and all the time they spent together at events around the country, apparently they just "grew apart."
Us Weekly reports:
"It just ran its course," a source tells Us. "He was never something serious."
Never something serious?  Well Rosario did pour out her heart on social media just a couple months ago about Eric staying by her side as she suffered after from ovarian cyst surgery.  She talked about him taking care of her, with her adult diapers on, and how THAT is love.
Yeah, we would agree. So if this doesn't mean it's serious, what does?!
What a difference a year makes… This weekend marks a year that I had to get emergency surgery to stop internal bleeding from a ruptured cyst on my ovary. It was the first time I told @ericfuckingandre that I loved him (and very much not the last). Thankful for his care and all of the doctors and nurses and staff at the Desert Regional Medical Center. The "privilege" of insurance and access to medical care. Vaneza is Resting In Paradise since May. Only 26 years young on this earth with us. I left Sierra Leone the Saturday before the floods. The community of the "land of smiles", ravaged by colonialism, climate change, Ebola, child soldiers, war, blood diamonds and more coming together to take care of each other yet again. Saving lives and picking up the pieces. I was front and center at the suicide at Burning Man this weekend. The firefighters endangering their own lives to try and save his. Americans standing together in vigil, honoring Heather Heyer's humanitarianism with solidarity against her senseless murder. I wish I had practiced more of what I learned from my near death experience last year but so much is conceptualized as you go back to work and routine. Life has a way of reminding you again and again and again, though, what, and who is important. Of the necessary work to do contemplating, meditating and healing yourself as you look out for others. Dreamers, immigrant families, refugees, #blacklivesmatter, #sayhername, Hurricane Harvey/Irma and terrorist survivors the world round, and more, call for our care, love and focus. It was 115 degrees in the Bay Area. Things are going to keep changing. The universe demanding that we pay attention, educate ourselves, and be activated to advocate and create better circumstances than we were given, for our generation and those to come. I'm so filled with gratitude and humility. Thank you for being the tribe I get to be a part of on this journey. I am at your service with unconditional love, acceptance, humor and light. Thank you.
Welp, at least Eric will always have this bathtub footage to remind him of the good times….
Photos: Instagram