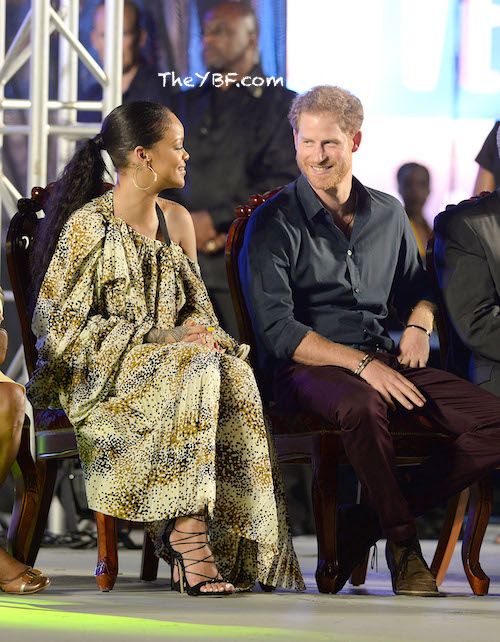 Just one day after receiving her Footwear Designer of the Year award, Rihanna jetted home to Barbados for her country's Independence celebration. And, of course, to meet Prince Harry. Pic and deets inside…
Rihanna sat with Prince Harry during the Barbados' Toast the Nation event on Wednesday on the beautiful island. As the former travel ambassador for her home country and Barbados' native daughter, it's only right she's front and center for such a huge occasion.
The twosome were seen laughing it up throughout the event. He was there on behalf of his grandmother the Queen of England to help Barbados celebrate 50 years of independence from the British monarchy.
Prince Harry also delivered a message from The Queen congratulating Barbados:
Prince Harry meets @rihanna at today's Toast to the Nation marking 50 years of Independence for Barbados #50Barbados #RoyalVisitBarbados pic.twitter.com/ejmt1r2IDl
— Kensington Palace (@KensingtonRoyal) November 30, 2016
Beforehand, Ri met with Harry while lunching at a separate event:
A prince and a popstar @rihanna (filmed by hipster @DuncanCStone ) #50Barbados pic.twitter.com/OBqQUXOFTB
— Peter Hunt (@BBCPeterHunt) November 30, 2016
Cute. Talk about marking 50 years with a (very cute) bang.
Photos: Splash