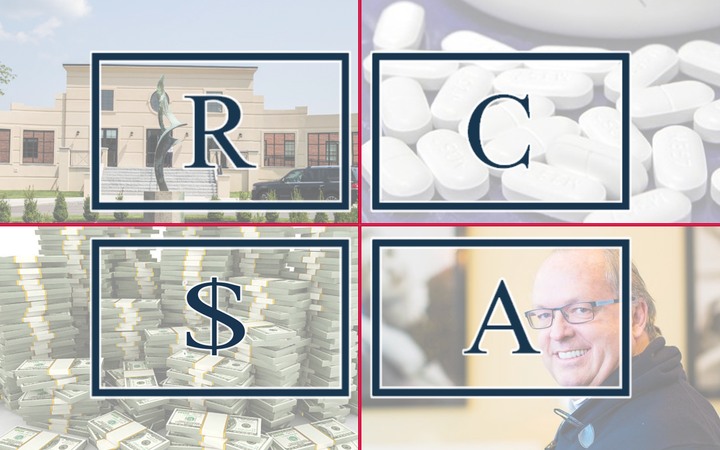 Frank Underwood, one of my all-time favorite TV characters, says, "The road to power is paved with hypocrisy, and casualties." That's what came to mind when I read the The Boston Globe's searing expose of Recovery Centers of America. Admissions to its Danvers facility in Massachusetts were shut down last Friday, citing "concerns regarding patient care and safety."
Care and safety is one way of putting it. Two RCA patients have died so far this year. The inpatient facility was the only one in Massachusetts to report more than one death. The total number of fatalities for the state is nine. Obviously, something was very wrong. I started to dig more deeply into RCA's background, looking for clues to what was going on inside its polished exterior. What I learned gave me chills.
STAT and the The Boston Globe launched a serious, must-read investigation of RCA, interviewing more than a dozen current and former employees. According to the expose, "One staff member complained to the state that patients were trading their medication for financial and physical favors." High patient-to-staff ratios created stressful conditions for everyone. RCA, said a source, was run more like "a drug hotel and brothel rather than a recovery center." And of course, there were negative consequences. Like patient deaths.
RCA is an example of what happens when profit-hungry entrepreneurs cherry-pick in an industry where they have no experience. When the company switched to venture capital and took a massive investment from private equity fund Deerfield, things went south. (For the record, three of Deerfield's management partners were arrested this year on insider trading charges.) Money, corporate milestones, and filling private insurance-only beds became a priority. Although the company hired good people in the local community, its values were undercut by high staff turnover, overambitious growth, and feckless leadership.
RCA pushed to expand rapidly in its first year, but failed to open any treatment centers. It had to double up capacity in existing facilities to make up the loss and ensure it would meet its revenue goals. RCA now includes nine facilities and purports to be the "fastest growing" addiction treatment provider in America, but at what cost to patients?
Places like RCA put profits first: they are designed to make money. I'm not saying that's a bad thing. Many hospitals are privately owned, too, but they're subject to strict regulations. They pay high malpractice insurance, maintain professional certifications by participating in special programs and training, and undergo audits to ensure that they're up to snuff. We can't say the same thing about the treatment industry, which is self-regulated. Although some treatment center owners are honest, not all of them are. Dishonest, selfish, dysfunctional companies, like RCA appears to be, prioritize corporate milestones. They're a meat grinder, extracting all they can from patients who are desperate to find relief from addiction. Do they actually care, or is it just lip service? The results, tragically, speak for themselves.
Since the treatment industry is self-regulated, it's almost impossible to tell the good treatment centers from the bad ones. After all, don't most rehabs on TV look the same? They offer pools, gardens, organic food, king-sized beds, and holistic treatments like meditation and yoga. They look more like 5-star hotels than hospitals. How does the reality compare to the marketing materials? It's impossible to tell. Some of these places employ unskilled front line salespeople, who make exorbitant promises to frightened people and their families. These sales teams exaggerate what the treatment center can do: they're often graduates of the same program they're working for. Although they see their work as "helping others," they may be misleading them into spending tens of thousands of dollars on a treatment program that is nothing more than a 28-day stay in a nice hotel.
Let me put it this way: would you hand your child, husband, or wife over to a treatment center that wasn't going to help them? Of course not. But the way that many treatment centers operate lacks transparency. Without federal regulation, we can't know if a rehab is safe for our family members — until someone's loved one turns up dead.
Since the treatment industry is self-regulated, it's almost impossible to tell the good treatment centers from the bad ones.
Although a few independent groups have made attempts to set up an auditing and certification system for the treatment industry, it's difficult to find one that's truly objective. The industry is small, and everybody seems to know everybody else. However, there are a few ways to tell if a treatment center has a patient's best interests in mind, or is just the owner's personal cash cow.
The CEO of RCA, J. Brian O'Neill, has no personal experience in recovery, which is often seen as a bare-minimum requirement to work in the field. Prior to joining RCA, he didn't spend any time on the front lines of the war against addiction. He was a real estate developer. In fact, he seemed to have no interest in talking with the established recovery communities in the cities where RCA was building their new campuses or seeing what was already working in the field.
That was one of the many red flags the company raised with attorney Nancy Marcus Newman. Newman got involved in recovery over a decade ago, when addiction affected one of her close family members. Her drive to ensure ethical, fair, accessible treatment for young people seeking recovery led her to found the nonprofit Bridge Foundation. She's serious about recovery: she completed a CADC license to make sure it was a legitimate training instead of a fluff program designed to make "anyone a coach." She's worked to help recovery groups and treatment centers develop their best practices: a crucial role in a self-regulated industry.
The RCA, Newman said, declined her help. "The goal of every good treatment center is to put themselves out of business, but why would they?" she said. "It's like McDonald's. If someone went through the drive-thru and only bought one Big Mac, they wouldn't be the company they are. RCA is basically McTreatment. They make money on making sure their customers come back again and again."
Aggressive sales teams, bolstered by misleading marketing materials, will promise anything over the phone to get a patient in the door.
By focusing on creature comforts, RCA shorted its patients on care. The company's relapse program, for example, is almost identical to its primary treatment program. That means that if a patient relapses, they go through the same program that didn't work the first time. And yes, they pay for it. RCA takes only private insurance: another red flag.
"I called RCA last month to see if they'd take a new patient: a young woman who was going to start detox that night," Newman said. "I was told that they don't take Medicaid. They have no scholarship fund, and no beds for people without private insurance. I'm not saying that good people don't work at RCA. They do. But this policy tells me that we need someone at the table in their board rooms suggesting a 10% tithe for a scholarship fund."
Newman pointed out that reputable treatment centers hire people to negotiate with insurance companies. "The amount of money they budget for those positions, specifically, is a strong indicator of whether it's a good company or not," she said. "Those are the people who go to bat for patients when their insurance threatens to pull coverage, instead of just kicking them out."
Systemwide, nobody seems to be clear about scholarship funds and how they're allocated. Although O'Neill's party line is that he "wants to save a million lives," it seems that the only lives his company is interested in saving are the lives of people who can pay through the nose. That's simply not possible for many people, especially families who have gone the treatment route multiple times and lost their private insurance coverage. A few trips through the McTreatment drive-thru are way too expensive for most families. What's next? You lose your insurance, but you still need help. Instead of finding a way out, you're trapped in a cycle of rehab after rehab.
Yet, the RCA puts a lot of its marketing budget towards bombarding people with the message that they have the best program. When a treatment center does this, it creates an unrealistic expectation, when in fact it's kind of nuts to think that a 30-day trip to the spa could reverse or cure years of active addiction. Although it calls itself a "community based center," RCA has zero roots in its local recovery community. One patient who graduated from their program told Newman that the campus felt like "a nice hotel" and that there was very little recovery support and few meetings. She "never saw a counselor." The program also claims to handle dual diagnosis patients: something that is, arguably, impossible, since it takes more than 30 days of treatment to get a patient's baseline.
Brad Lamm, who owns intervention.com, says that watching for red flags is key. Seeing what a treatment center will do for its patients is just important. To help people identify trustworthy treatment centers, Lamm created the Fair Care Promise. The Promise is an ethical pledge that providers sign, promising to uphold a certain standard of care. Since Lamm's website receives an incredibly high amount of referral requests, he said it was important to have a benchmark for the facilities he was sending patients to. He accepts no payment for referrals, and works within a known network of trustworthy partners. The Fair Care Promise makes it possible for families to report disreputable companies. After a complaint is made, the treatment center is put on a three-year probation and investigated by Dee Owens, a former SAMHSA director.
"You can't tell a person who's in crisis to go with their gut," Lamm said. "That instinct doesn't work in those situations." He hopes that the Fair Care Promise inspires trust in people who are seeking help.
Lamm said that two of the biggest signs of a bad operator are monetizing admission to treatment, such as paying for referrals; and refusing to put financial agreements in writing. Aggressive sales teams, bolstered by misleading marketing materials, will promise anything over the phone to get a patient in the door. If they're not willing to put it on paper, Lamm said, it was likely that they were misrepresenting what they could really do to help.
It took two deaths to bring RCA's misconduct to light. If The Boston Globe hadn't picked up this story, I never would have heard about it. When I posted a link to the Globe's article on my Facebook page, an RCA executive accused me of spreading one-sided, inaccurate news. None of the RCA employees who have left comments on my post or messaged me privately have been able to answer my questions: they just deflect. But this isn't a game. We're talking about people's lives.
Carl Bernstein says it best: the media's job is to find the "best obtainable version of the truth." Until we get state and federal regulations in this industry, and more treatment centers begin adhering to a code of ethics like the Fair Care Promise, we will keep relying on reporters to tell us the truth. Journalists expose the unscrupulous actions of companies like RCA, who prey on vulnerable people and their families.
We need to keep raising awareness, talking to each other, and demanding reform. It's time to end the hypocrisy. People facing addiction deserve to live: it's up to us to make the change.