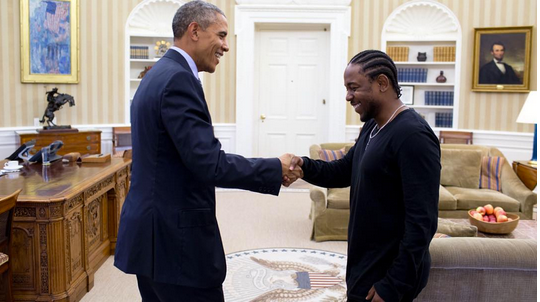 Kendrick Lamar had, like, the best 2015 ever. And it's spilling over into 2016. He linked up with President Obama in the Oval Office and magic totally happened. Get the deets inside…
President Obama may not be able to always tell the public just how #Woke he is. But once he named Kendrick Lamar's "How Much A Dollar Cost" his favorite song of 2015, enough said.
Back in October, America's fave rapper was invited to the White House to chop it up with America's fave community organizer turned President about the "Pay It Forward" campaign. K DOT and O created a video discussing the importance of mentoring the youth and other issues facing our communities.
Senior Advisor to the President, Valerie Jarrett, revealed a little about the meet up in her chat with BuzzFeed Podcast. She said:
"…You know what the president said to him? [Because] he was a little nervous — bless his heart, he's really a very nice young man, and the president said, "Can you believe that we're both sitting in this Oval Office?"
We already know that sentiment wasn't lost on anyone in the room.
Kendrick captioned the above pic saying "hood politics." Gotta love it.
Kendrick's epic album cover for To Pimp A Butterfly represents systematic racism, so this meeting was pretty fitting.
Check out the "Pay It Forward" video from Kendrick and President Obama below:
By the way, Prez O gives his final State of the Union Address Tuesday night. In honor of the momentous occasion, the White House joined SnapChat. And quoted DJ Khaled's "MAJOR Keys" to success while doing so.
They just get it.
Photos: Pete Souza/TopDawg Entertainment