By _YBF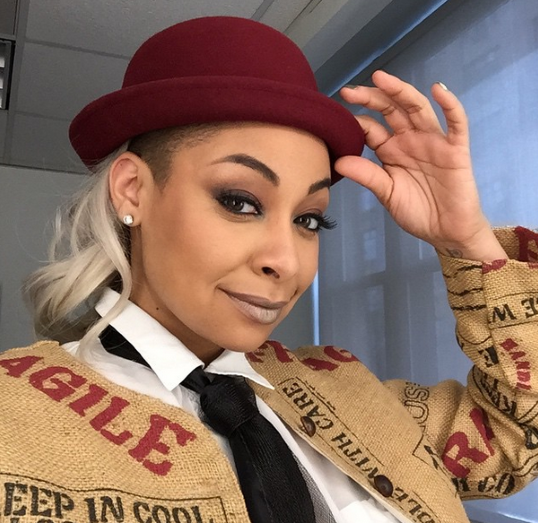 In today's "WTF" interviews, Raven Symone breaks down ALL the controversial-ish that's flown out of her mouth, while Bow Wow blasts "Empire" as stereotypical. More inside…
The execs at ABC gave Raven Symone a chair and a platform over at "The View" and she's turned herself into one of the most talked about chicks on social media. Werk Raven! On the heels of her celebrated cameo on "Empire" Raven sat down with E! News' Alicia Quarles to explain three trending topics associated with her name: the "N" word on "Empire"; her "defending" a news anchor who insulted Michelle Obama (she says she didn't) and why she does not want to be defined as African American. Here goes:
On Empire co-stars Terrence Howard and Taraji P. Henson, who each feel differently about using the N-word on the show:
It's hard, because people use it in their everyday language behind the scenes all day, and some shows will air it and some shows won't," she tells us. "And there's a lot of pain connected to it, but then there's a lot of brotherly love connected to it, and I feel like you shouldn't say a word you wouldn't let anybody else use."
On "defending" Univision host Rodner Figueroa's comments about FLOTUS looking like "part of the cast of Planet of the Apes":
"I don't think I was defending. I think he got fired for a reason. It was very distasteful what he said, it was very distasteful. And I don't believe she looks like one at all. I don't believe she should've been casted, but I do know that a lot of people I know have animal traits."
"I think any time something is dealing with race, that is still an open wound and you try to look at it from a different standpoint, people are gonna get mad. Especially when it's socially out, blasted, and people don't read the whole story. Just like a lot of my comments. People don't read into the whole story and start making things and they say, I said this and I said this and I'm trying to be a different race, but I'm not trying to be."
Clarifying what she meant when she told Oprah Winfrey she didn't like the African American label:
"I never said I wasn't black. I said I wasn't African American and to me, that's a difference," she explains and mentions that she recently found out, thanks to a DNA test from Ancestry.com, that she's actually from almost every country in Africa and Europe.
"We are a melting pot of beauty. We have to embrace the different cultures we have. And if you don't, we're still gonna have these problems that are blasting up everywhere. And call me hippie, call me a free-thinker, call me someone that's looking for a better life, but I wanna be in a better world."
In other interviews…
Shad Moss is brand new. That "Bow Wow" persona is gone. He still pops bottles and hits the club, but now that he's got a high-profile gig on CBS with "CSI: Cyber", he can turn his nose up at stereotypical-ish like "Empire". SIDEBAR: Didn't he build his career on Empire-ish antics?
During an interview with Global 14, Bow Wow Shad came for Lee Daniels and the entire "Empire" franchise, calling their show stereotypical. At this point in his life, he's over playing rappers and athletes.
On CSI and what the show mean for racial diversity?
When we were still filming Cyber episodes, Empire's first episode premiered. Fans were saying, "Man, you should have been on the show." But we all don't rap or play basketball. We can do so many things. There are young African-Americans who are intelligent enough to work at the FBI. That's what's so bright. Hopefully, I can help start a new wave of young black actors who don't want to stereotype themselves.
Is new music in the pipeline?
Now that we're on hiatus from shooting Cyber, I'm focusing on music. Bow Wow 2015 is revived, mature, happy, partying, dope and fresh. I've been in the studio with Snoop, Wiz Khalifa, Big K.R.I.T., Migos and Musiq Soulchild. I've also wrapped a first single so fans can get ready for some new music in the next couple of weeks.
Hey, we're all for roles for black actors covering MULTIPLE perspectives….but we're not here for black actors publicly tearing down a successful non-reality show with a talented black leading cast.
FYI – You can Shad Moss being non-stereotypical on "CSI: Cyber" on CBS, Wednesdays at 10/9ET.
Photos via Raven Symone Instagram/Shad Moss Twitter