By Natasha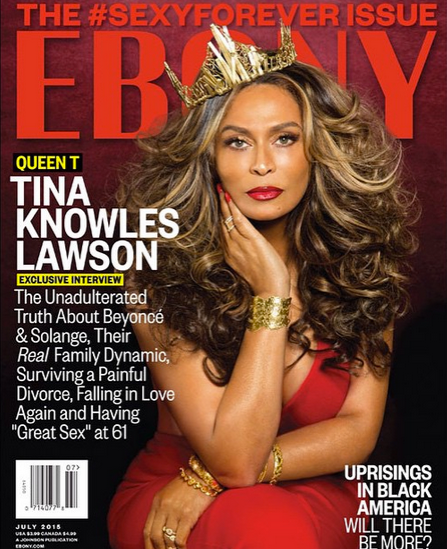 Well Look. At. TinaKnowlesLawson! Queen T is servng up hair, face, and the crown on the July 2015 cover of EBONY magazine. Oh, and she's supposedly giving readers the low down on the family dynamic aongst Beyoncé, Solange, Jay Z and the rest of the fam.
Peep Mr. Knowles Lawson's full cover inside, plus deets on her new marriage and new life…
Newly married Celestine "Tina" Knowles is dangerously and love, and she's talking about it. For the new July 2015 cover of EBONY Magazine, she rocked a red hot new photoshoot and talked all about the untrue assumptions. No, she's not a stage mom and no, she's not a kept woman. She takes a page out of her daughter's book and is Independent.
Here's an excerpt from the EBONY cover story about her fabulous new life:
But Knowles Lawson also matter-of-factly shares that she is not—and has never been—a kept woman. She's on no one's payroll, thank you, and she wants it that way. Beyoncé certainly doesn't pay her, at least not in cash. The breathtakingly gorgeous grandmother does Pilates five days a week and has a ravishing body (not for her age, but period; see exclusive EBONY photographs); is in talks for a TV show about "getting your groove back;" does a daily morning prayer; works with charities to support the homeless; and is a self-taught, avid Black art collector and historian (who owns originals from greats such as Romare Bearden, Elizabeth Catlett and John Biggers). But this is all her new life. In her old one, crafted out of poverty, she made sandwiches and dresses to sell to classmates, rode motorcycles without a helmet, became a professional makeup artist at 19, and always did—as in did everyone's hair. Sure, she's what magazines call "sexy at any age" because of that tight waist, but arguably, it's as much due to her natural-born artisan and rebel soul.
About that fabulous wedding of hers where Mrs. Tina wed actor Richard Lawson, here's what went down:
To set the stage for her April 2015 nuptials, the family created a private, feature length movie: The Life & Times of BadAss Tenie B & ColdAss Rickey Lee. The release came complete with a red carpet event. Part blaxsploitation spoof, part anthropological family documentary, the film confirms that the story of Knowles Lawson's life—and her self-possessed "sexy"—began long before the world encountered her gifted offspring. Born in Galveston, Texas, where the Freedman's Bureau was headquartered after slavery was abolished, and a few hundred miles from mystical New Orleans, where her family is from, one can sense that the newlywed has always conjured a kind of Free Black Woman Magic.
Tina is giving some insight into her southern upbringing, and how that famous name "Beyonce" came to be:
In an exclusive EBONY interview, the enigmatic bombshell lovingly references her "first family" of entertainment and opens up about her life.
The last of seven siblings, each of whom has one of four variations of the same last name Boyance ("The hospital told my mama be happy we even got birth certificates.") "Tenie B," her nickname since childhood, shares that she was mistreated by Black nuns in elementary school, took off solo to California at 18, and by 34, with little ones in tow, opened one of the biggest, baddest Black hair salons Houston had ever known.
Pick up the July 2015 issue on newsstands for the full cover story.