By _YBF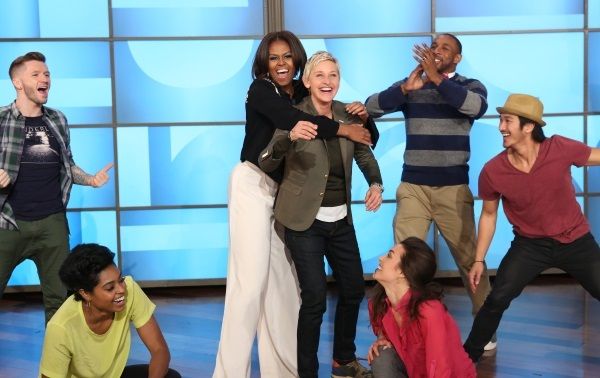 Both the President and the First Lady worked the talk show circuit yesterday with the FLOTUS dancing to "Uptown Funk" and dishing on her "GimmeFive Challenge" while The POTUS had a very serious conversation about the police shootings in Ferguson. Watch them inside…
There was a First Lady overload on daytime television yesterday. The First Lady of daytime tv Ellen Degeneres welcomed both the First Lady of The United States Michelle Obama and The "First Lady" of "Scandal" Bellamy Young. The FLOTUS dropped in to talked about the annual Easter Egg Roll and how this year's event will include a "Let's Move" component and a dance challenge.
"In honor of the fifth anniversary [of the Let's Move campaign] I've issued this challenge. We're calling it #GimmeFive and we're using the hashtag #GimmeFive on social media," Michelle said. "We're asking folks all across the country to #GimmeFive ways their leading a healthy life. We've got a lot of celebrities involved," she said, thanking Beyoncé, Nick Jonas and Ryan Seacrest for their involvement. "We're gonna take over the Easter Egg Roll this year with a #GimmeFive dance, and actually the So You Think You Can Dance all stars are coming to the Easter Egg Roll to teach the whole South Lawn this dance."
What's the #GimmeFive dance? You can learn it for yourself in the clip below as FLOTUS challenged Ellen to do the #GimmeFive dance to the tune of "Uptown Funk." Check it out:
Television viewers got a second helping of The First Family via a late night television appearance on "JKL" by President Obama…
President Obama's appearance had its funny moments, however, the POTUS also addressed a very serious issue: the cop shootings in Ferguson. In the video above, you'll see the President read "mean tweets" directing at his leadership skills, golfing trips and choice of jeans. We do agree that POTUS should have a good pair of denim…but DIFFERENT denim!
On a serious note, he spoke to Jimmy about the shooting of two officers outside of police headquarters in Ferguson, MO. Here's his statement, on what he deemed 'criminal acts.'
"Obviously, we don't yet know what happened. Our thoughts and prayers are with the officers and their families, and thankfully, as you said, they're going to be OK. … What was beautiful about Selma was reminding ourselves that real social change in this country so often has happened because ordinary people are willing in a nonviolent fashion to make their voices heard."
"There's no excuse for criminal acts. Whoever fired those shots shouldn't detract from the issue. They're criminals. They need to be arrested. And then what we need to do is make sure that like-minded, good-spirited people on both sides, law enforcement who have a terrifically tough job, and people who understand they don't want to be stopped and harassed because of their race, that we're able to work together to try and come up with some good answers.
"What we have to make sure of is that the folks who disregard and disrespect the other side, people who resort to violence, that they're marginalized."
"But they're not the majority. And in the same way that you can't generalize about police officers who do an extraordinarily tough job –overwhelmingly, they do it professionally — you can't generalize about protesters who it turns out had some very legitimate grievances. The Justice Department report showed that they were being stopped, African-Americans were being stopped disproportionately, mainly so the city could raise money, even though these were unjust."
"What was happening in Ferguson was you had city government telling the Police Department: 'Stop more people. We need to raise more money.' Folks would get stopped. They'd get tickets. Then, they'd have to wait in line to pay it, take a day off work. Folks would lose their jobs. In some cases, they were thrown in jail because they didn't have enough money for the fines. And then, they'd get fined for that. So there was a whole structure there, according to the Justice Department report, that indicated both racism and just a disregard for what law enforcement's supposed to do."
Photos via ELLEN's Instagram