By _YBF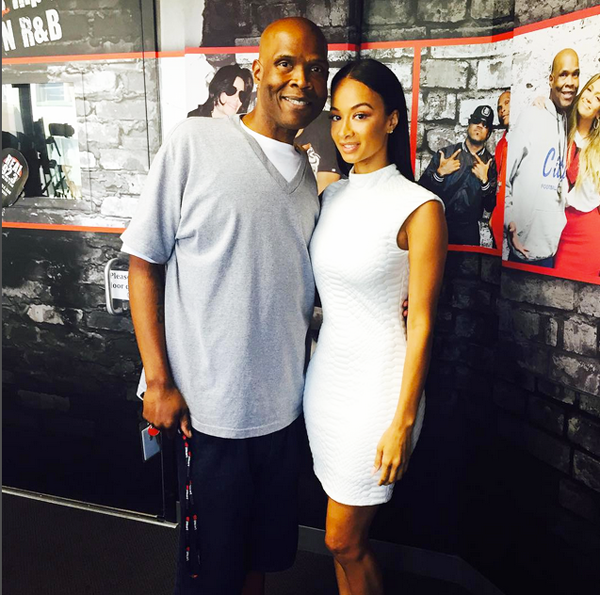 Draya Michele is clearing up ish. And we smell a PR stunt. Find out what she said about getting back together with fiancé Orlando Scandrick, throwing his YEEZYs in the pool during a fit of rage and why she won't be returning to "Basketball Wives: L.A." inside….
"Basketball Wives: L.A." star Draya Michele stopped by "Big Boy's Neighborhood" to share her side of what's been going down with her on-and-off relationship with her Dallas Cowboys fiancé Orlando Scandrick.
Last we heard, Orlando pulled the plug on their relationship, saying his proposal was a huge mistake and he even filed a restraining order against her. You can get those deets HERE and HERE.
While all this has been going on, the Mint Swim and Fine Ass Girls creator has been relatively quiet about the situation, but she's now ready to clear things up and tell her side of the story. Apparently, the two have gotten back together (again). Yep! Even after she allegedly threatened to throw bleach in his eyes. Hmm… do we smell a PR stunt? Possibly.
Draya goes into detail about going "crazy" on Orlando saying she sometimes gets caught up and trashes things. She admits to throwing his Yeezy sneakers in the pool during an argument. And she also reveals when she's arguing with him, nothing is off limits…even his mama! So disrespectful.
The reality star also claims she will NOT be returning to "BBW LA" for another season because she's solely focused on building her brands. She said she doesn't even watch the show! She only watches the first episode and the last episode to make sure her hair and make up are on point. Oh…ok.
Check out the highlights from her sitdown below:
On if she's still engaged to Orlando Scandrick:
"I got my ring. It was a very expensive ring. We're in a good place. It was an off thing so we're trying to get back on and we're just playing it day by day. "
On the restraining order Orlando filed against her:
"I NEVER got a restraining order. I was never served a restraining order. I know something was filed, but I guess in order to make it official you gotta hold on to it, you gotta show up in court, you gotta serve it legally and I never got served. So I don't know what that was about. Seems like mixed emotions to be.
On if she and Orlando are going to get married:
"I mean yeah, because to be honest, if there's not a wedding then there could possibly be a funeral."
On not speaking out about the drama surrounding her engagement:
"I don't know if people noticed, but I took a different approach with this situation and I didn't say anything. I didn't give any statements, I didn't shade anyone, I didn't hint at anything. I was kind of embarrassed and kind of appalled that my private life was out there and I didn't put it out there. I'm cool with what I do. If I wanted to tell y'all I was having arguments in my household, I would have told y'all. I didn't necessarily want that to be out, so I was kind of like taken back a little bit and kind of quiet about it."
On alleged threats that she wanted to put bleach in his eyes:
"I didn't really want to put bleach in his eyes [laughs]. I was in my house. It's okay to lock the doors, put the blinds down and tear it up, in my opinion. We don't have domestic violence, it's just I'm just a little destructive sometimes during an argument. I'm not destructive to him."
On throwing his shoes in the pool:
"Yes, he's a shoe guy. I put the shoes in the pool. I put the YEEZYs in the pool. I'm a woman, I'm not going sugar coat it…I'm a little crazy. In an arugment, nothing is off limits, I'm going to talk about your mama, I'm going to throw you clothes in the pool. It's an argument!"
On being difficult to deal with in a relationship:
"It takes a special kind of man to handle me because I'm a lot. He's [Orlando] made it pretty far, he's lasted 2.5 years so that says something about his character. We're black and in a relationship. Black people in a relationship, they feel me."
On why she decided to return for this season of "BBW LA":
"Umm..besides money talks? It can have its good times. It can be fun sometimes."
On if she will return for another season:
"Nah."
On a spin-off show:
"It would have to be really, really right and really based on my business and positive stuff. I'm just not interested in having me, my love life and my family on TV anymore."
Check out the full interview below (she starts talking about Orlando at the 10:44 mark):
The drama of it all….
Photo: Splash/Draya's IG