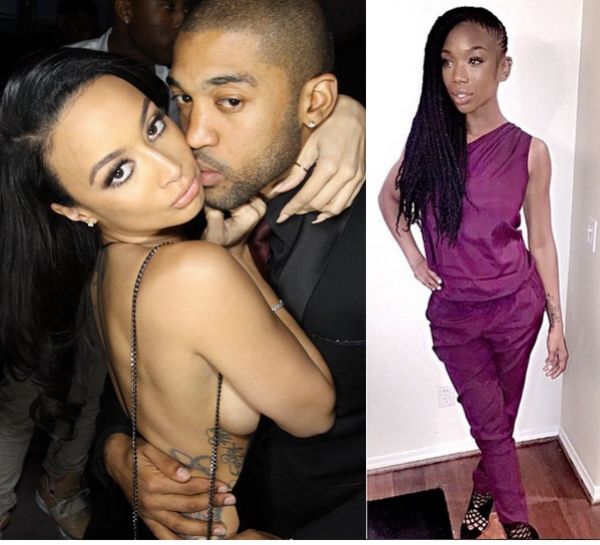 Those LA celebs love to party. Check out how Draya Michele spent her 30th birthday weekend (in addition to filming a new season of "Basketball Wives: LA"), plus Brandy and others joined the "Empire" cast for a night out…and it looks like Denzel Washington is getting recruited for the show!
Pics inside…
Brandy showed off her look before heading out for the night yesterday.
Oh to be a fly on the wall at this mini party:
Director Lee Daniels rounded up folks from a few of his movies and his new hit show "Empire" and partied it up at Giorgio's at the Standard in Hollywood last night. "The Game" star Brandy rolled with the crew, as did rapper Common who is gearing up for a huge next few weeks of Awards season.
"Empire" stars Jussie Smollett and Tasha Smith were there, and The Butler and Precious star Lenny Kravitz brought his rock and roll sexiness as well.
As for what Denzel Washington was doing there–and waiting on his car at the valet like everyone else–it seems that Lee is trying to recruit the Academy Award winner to join "Empire"!
He posted the above pic from the previous night asking his followers if they think Denzel would join the cast. That would be interesting….
Back to the party scene:
Even George Clinton was on hand with the fellas.
Lenny's Precious co-star Xosha Roquemore was there too getting kisses from Jussie:
Cute!
Elsewhere in L.A. this weekend:
Draya Michele took a break from filming the new season of "Basketball Wives: LA" to celebrate her 30th birthday weekend. She partied it up last night in a velvet Gemeli Power Signature Label dress that offered up major side boo we're sure her NFL baller boyfriend Orlando Scandrick loved.
And she posed it up with her 'Fine Ass Girls' company models and friends.
But before she turned into a vixen for her party, she kept it classy (as classy as she could) at her cute tea party with Lyfe Tea:
Quite cute. Happy birthday Draya.
Photos: Instagram
Source:: http://theybf.com/2015/01/25/party-people-brandy-common-lenny-kravitz-party-with-empire-crew-as-denzel-washington-gets