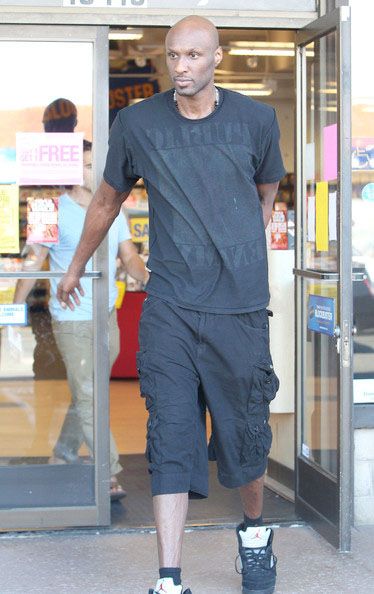 Things have gone from bad to worst for former NBA baller Lamar Odom. According to new reports, he was found unconscious in a Nevada brothel today. And now, he's fighting to stay alive. Deets inside….
Last we heard, Lamar Odom was pleading his innocence in that recent "ambush" he supposedly did on his wife Khloe Kardashian. Now, we're hearing the former NBA player is fighting for his life in a hospital after a wild couple of days at a brothel in Nevada.
According to reports, the 35-year-old went to enjoy himself at the Love Ranch in Pahrump, Nevada on Saturday. Its being said he was there for a few days and while there he was supposedly taking a substitute to Viagra. Maybe he had too many? Today, he was found unresposive and was rushed to the hospital.
Here's how TMZ breaks down what went down when he found today:
[Love Ranch owner Dennis Hof]… who tells us Tuesday afternoon, a woman went into Odom's room in the VIP suites and found him unconscious. We're told the woman began screaming for the manager — who called 911.
The manager rolled Lamar over on his side and saw "mucus-type liquid coming out of his nose ad mouth." An ambulance took Lamar to Pahrump hospital, where doctors intubated him … an indication he could not breathe on his own.
We're told Lamar is being airlifted from the hospital to Las Vegas for more treatment. Our sources tell us, "It's not good."
Wow. This is incredibly sad. Lamar has suffered some tumultuous events involving his love life and personal/family life, like the passing of a close childhood friend.
The story is still developing. We'll keep you posted on any updates. Our prayers to him and his family.
Photo: Pacific Coast News