Two Chicago police officers remained hospitalized Wednesday morning after being shot on-duty in what authorities believe was a targeted attack.
It was around 9:15 p.m. when police say two 9th District officers were ambushed near 43rd and Ashland in the Back of the Yards neighborhood on the city's South Side.
The officers were in a car, in plainclothes, following up on an earlier gang investigation at the time of the shooting, police said.
Chicago Police spokesman Anthony Guglielmi said both officers "were targeted" and "there are high security concerns" for both men. 
The shooting prompted an all-out manhunt for the suspects.
Within minutes, a helicopter searched for suspects from the sky while a canine unit and dozens of boots were on the ground. Chicago police called in massive resources to chase the suspects down.
Three persons of interest were being questioned as of early Wednesday morning while an extensive search remained ongoing.
"We will get them," Johnson said, vowing to bring the shooters to justice. 
Authorities believe the officers may have been hit by rifle fire, or some other high-powered weapon.
The officers were able to return fire, Chicago Police Supt. Eddie Johnson said, but it was not clear if they hit anyone. 
Two weapons were recovered from the scene, police said.
CPD questioning 3 people of interest from officer shooting. 2 guns recovered thus far. We believe officers were shot by high powered weapon

— Anthony Guglielmi (@AJGuglielmi) May 3, 2017
The wounded officers were taken to Stroger Hospital where their conditions ultimately stabilized, Guglielmi said. One officer was shot in the hip and arm, the other was shot in the back.
"They are doing quite well, thank God," Johnson said.
Mayor Rahm Emanuel in a tweet called the shootings a "frightening reminder of the dangers our dedicated officers face."
Tonight was a frightening reminder of the dangers our dedicated officers face. Thank you @Chicago_Police for putting service above self. https://t.co/XTgQZtbQkP

— ChicagosMayor (@ChicagosMayor) May 3, 2017
Emanuel was at Stroger and spoke with the officers and their families, Johnson said.
'Manhunt' Underway After 2 Chicago Police Officers Shot: CPD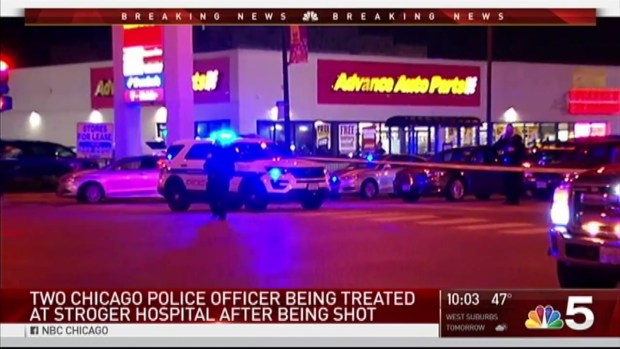 Published 1 minute ago