By _YBF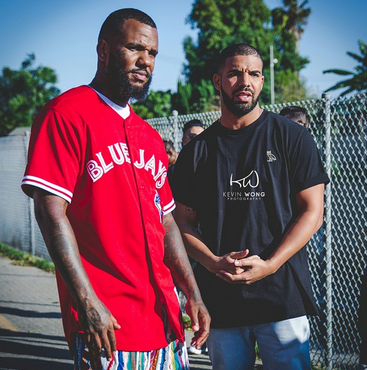 The Game teams up with Drake on his latest hood anthem "100". Listen to the track inside…
Straight outta Compton…The Game is back with another one. If you follow The Game (and us) on the 'Gram, you already know he's working on his next classic. We know it's going to be a classic because he said so. And you should never disagree with The Game. He said, "8:30am & I'm still in here gettin this CLASSIC album right for yall. #TheDocumentary2".
The latest track is called "100" and it's a collaboration with Drake. The soulful jam was produced by Cardo, and showcases Game's ability to rep for his city, pay homage to OVO and Blood Money and share pearls of wisdom from Dr. Dre ("Dre told me not to trust these ni**as").
The duo recently linked up in Game's old hood (photo atop) to shoot the video and you can peep those pics here.
A video posted by champagnepapi (@champagnepapi) on Jun 15, 2015 at 7:53pm PDT
While the Game initially planned to release the sequel to his 2005 debut album The Documentary on his son's birthday (June 30), the release date for The Documentary 2 is currently tentative. Stay tuned…..
Photos via The Game's Instagram