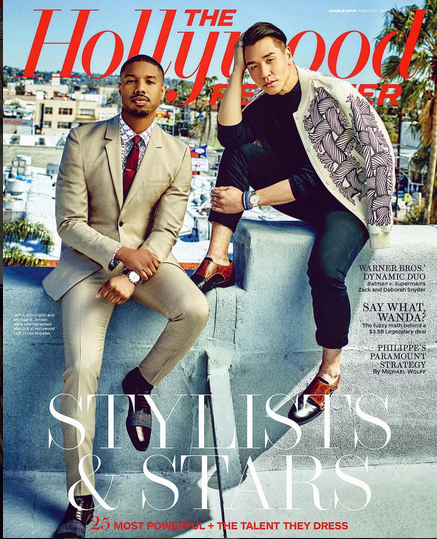 Yesss Michael B. Jordan. The hot actor and his stylist are gracing one of 4 covers of The Hollywood Reporter's new 25 Powerful Stylists issue. Check out how he went from "The Wire" to the impeccably dressed specimen we see now, plus his Creed co-star Tessa Thompson and her styling team who gets her on every Best Dressed list….
Rocking threads & loafers from Louis Vuitton, Christian Louboutin, Kenzo, Prada and Hermes, Michael B. Jordan is on the cover and pages of The Hollywood Reporter's Stylists & Stars Issue.
The super coveted spots on the mag's 25 Most Powerful Stylists are taken by Michael B., Tessa Thompson and their stylists.
Michael, whose gearing up to star in The Thomas Crowne Affair remake, spoke about the cover saying:
So proud of the mad genius himself @jeffkkim and thanks to @hollywoodreporter for capturing this moment! "I am smiling..with my eyes".
He credits Jeff K. Kim with pushing him beyond him limits:
"No matter what suits he pulls, there's always a couple of wild cards in there," says Jordan during his cover shoot for The Hollywood Reporter's 25 Most Powerful Stylists issue with Kim, who's named as one of Hollywood's most in-demand men's stylists. "Either one is a joke because he wants to see me react or another one where he sees if I'll be into it just to kind of push the limits a little bit and take a risk."
"I think over time I've built up the nerve to start taking more fashion risks." Clearly it's paid off.
Tessa, rocking a unique Emmanuel Ungaro dress and Sophia Webster shoes says stylists Micah McDonald (in a Michael Kors suit, Alexander Wang shirt and Louis Leeman shoes) + Wayman Bannerman (in a Sandro shirt, Balenciaga pants, Ted Baker London shoes) have transformed her style, but they still go to her mama about certain big decisions:
"They did a very special thing, which they let my mom look at the dresses before me at our fitting," says the actress of her stylists Wayman Bannerman and Micah McDonald, recognized collectively as Wayman + Micah. "I was in the other room and I just heard my mom go 'Ooh,' 'Oh,' 'Ooh, this one is kind of like mixed media.'"
"That sounds frightening," recalls Thompson of hearing her mom describe the Rodarte look. "I'm not wearing a mixed-media dress. And then I walked in and it was stunning. It was so different than anything else on the rack."
Yes for this Dries Van Noten dress and Sophia Webster shoes! Chick stays laced in a look that you're not about to find on any random mall rack or department store.
Check out Tessa and her squad below:
This week at the THR's celebratory party hosted by Jimmy Choo:
Cutie Tessa caught up with Aja Naomi King.
Tessa and Michael also talked about each other's secrets (one involves the fact Tessa never tried an egg before):
Fab times.
EXTRAS:
1. We HATE Instagram's new algorithm that will re-order our posts. STORY
Photos: Dewey Nicks/SMALLZ + RASKIND