By _YBF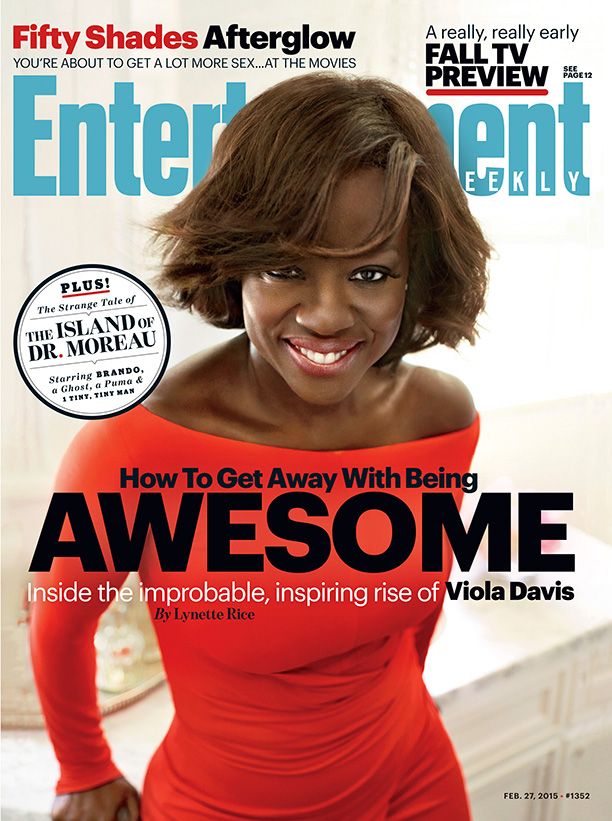 Viola Davis and Kevin Durant are among the famous faces on newsstands this month. Find out why Kevin didn't make it down the ailse in "GQ" while Viola opens up about her tv love scenes with "EW."
In this week's issue of "EW", "How To Get Away With Murder" star Viola Davis talked to the magazine about her critically-acclaimed year on teleivsion and all of the perks (love scenes) and downsides (paparazzi) to her new gig. EW caught up with Viola in Kauai, where she was vacationing with her husband Julius and their daughter Genesis. Here are the highlights:
On her "off" day with the paparazzi
"I literally rolled out of bed and rolled into a Target with [my daughter] Genesis, and the paparazzi caught me. I wore a wool hat and my Jimmy Kimmel sweat jacket. I was just not looking great. But it's not a big idea. Those are princess problems. In the grand scheme of life, that's very minuscule to complain about."
On how she handles love scenes on "HTGAWM"
"It was nerve-wracking, but I went for it. Anyone should be nervous doing very personal and private scenes. If you are not nervous, then something is wrong with you."
On the difficulties of being an aging actress in Hollywood
"There's the reality of being an actor, especially after two Academy Award nominations, and there's the fantasy. People oversimplify it by saying, start a production company, get your own stuff going on … as if it's that easy. I've had a production company for years. We have great projects coming up, but it's been a battle, okay? At the same time, you have to stay relevant because you have to be bankable to the foreign market.
On what attracted her to "HTGAWM"
"…when How to Get Away with Murder came along, I had my a-ha moment. I knew it would have a great time slot, and I would be a lead in a TV show. I'd get to play a role that's sexualized, messy, all those of things I never get to play. And at the same time, I can be relevant."
Viola's issue of "EW" hits stands on Friday.
Also on magazine racks…
Oklahoma City Thunder star Kevin Durant stikes a pose in the latest issue of "GQ" where he get shockingly candid about ending his engagement to WNBA player Monica Wright and reveals his desires (and fears) about marriage and family. Peeps his photos and cover shoot video below….
On ending his engagement:
"I had a fiancée, but…I really didn't know how to, like, love her, you know what I'm saying? We just went our separate ways."
One night Kevin got so full of feelings he just up and proposed to her. "We was just hanging out, chilling. And I felt the energy. I felt, I need to do this right now. And I just did it. I was like…We're engaged right now? We're about to get married? So I was just like, cool! I love this girl. But I didn't love her the right way."
On his faith in love:
"Am I gonna be alone forever? Am I gonna have kids? Almost seven feet tall in a sweat suit, body like God wanted him to be this good. I feel like there's no hope. But I still gotta have faith."
On people turning his "You the real MVP" statement about his mom into an internet joke
"I was like, man, that was a real emotional moment for me, and you making a joke about it! Like: Damn. Y'all don't really believe in shit. You don't have no morals or nothing. You don't care about nothing but just making fun….How are you supposed to act in the world, when people feel entitled even to a moment like that? I was serious as hell saying that, you know what I'm saying? But after a while, it's all good."
Pick up Kevin's "GQ" issue now…..
Photos via PEGGY SIROTA/TRUNK ARCHIVE