By _YBF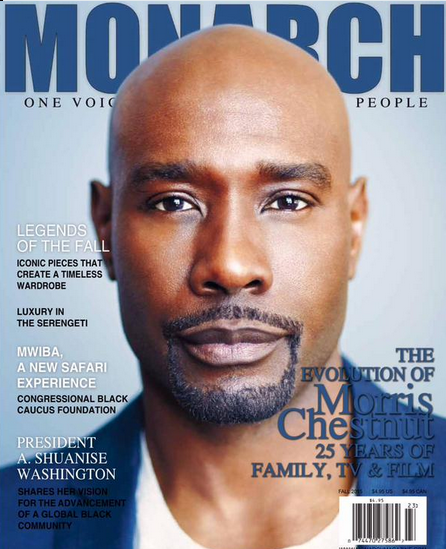 We're heading to newsstands for covers stories on Morris Chestnut, Viola Davis and model AzMarie. See all the pics and interview highlights inside…
Tonight….Morris Chestnut gets his big shot. He's one of the best looking and most talented actors of his generation…but has he gotten his props? Nope. From The Perfect Guy to The Best Man To Boyz N The Hood, he's ALWAYS been on point….but where did Hollywood shine a light on him?
It took Hollywood many years to "discover" Taraji P. Henson after the rest of us have been loving her forever (thanks FOX!) and tonight, FOX is also going to give Morris his shot. His show "Rosewood" debuts ahead of "Empire" and we're hoping it does for his career what "Empire" did for Ms. Henson.
On newsstands, Morris and his PERFECT mug are on the cover of MONARCH where he talks about his 25-year career, his 25-year marriage and what it means to be Black and leading a tv show. Here are the highlights from his Q/A:
What has been your strategy in staying relevant in your career?
That's a good question. Basically, I just kept trying to get better each year. Obviously, 25 years ago when I first started I was 2 years old [laughs]. No, but basically I was very young and very green when I first started. One thing that I realized early on is that I had to experience things and that it was going to be a lifelong study of acting and human behavior. So each year, I would try to just get better at what I do.
Is there anything that you would have done differently in retrospect?
When I came into the industry I didn't know anyone. A lot of times people I came across had like an uncle in the industry or a mother or someone as a mentor that I didn't have. So yeah, there are quite a few choices along the way that I would change. But fortunately, I'm still here now and when I mentor someone I advise them of the things that I would stay away from.
What is your key to success in marriage?
I think that, in addition to acting and life, you need a little bit of luck. Basically, Pam and I have been together for a long time. We met when we were 21-22. We've been fortunate to grow together instead of growing apart. People are different at 26 than they were at 21, and then you're even more different at 31. So we were blessed enough to grow together and communicate. The one thing that I always tell people is that it's not easy. A lot of times people think it's easy street once they get married. But actually that's when the work really begins. When you're dating this person or that person can walk away and there's no real attachment. But once you get married now it's not so easy to walk away. You can't just go back to your apartment and she go back to hers when you get mad at each other. So that's when the work starts.
Will audiences love Rosewood?
I think audiences will love it because it's a different type of show. We're going to be shifting tones a lot. My character Rosewood is a guy who has a lot of ailments and so he's just glad to be on the Earth. So he lives every day like it's his last day. He wants his outlook to be infectious to everyone. So with the type of show it is there are a lot of times when we have a lot of humor and times when we have some serious drama. There are also some emotional tones to the show. So we are going to be shifting tones; but at the end of the day during each episode from 8-9 pm on Wednesday starting September 23rd, people are just going to have fun and be able to enjoy the show.
How did you prepare for this role?
Well, unfortunately my research for this role was restricted because I was working on another project. Literally, I finished one project and 24 hours later I was on to this project. But it was basically looking up a lot of medical terms and understanding things about pathology. Pretty much what I like to do is think if I were a pathologist what would make me tick; and I try to inject that into all of my characters.
Is Hollywood more receptive to African-Americans playing lead roles on non-African-American shows?
I've always said Hollywood isn't black or white, it's always been green. When it comes to the biggest movie stars like Denzel Washington or Will Smith they weren't considered black actors. They were actors who were making a lot of green money so they were getting a lot of projects. In terms of them giving us opportunities now with shows like Empire, it showed Hollywood that even with Netflix and Hulu, the public still watches network television; and when the public watches network television, that represents advertising dollars. So with the success of Empire, now networks are finally seeing hey we can put Black characters on TV and people will watch. And that's what it is.
Read the full interview here and check out Rosewood tonight before "Empire."
Also on stands….
The day after her historic win at the 67th EMMYs, Viola Davis headed to the Ritz-Carlton Hotel in Downtown Los Angeles for an early morning photoshoot to celebrate her victory.
Viola, who is working on an HBO biopic about Harriet Tubman, opened up to VARIETY about what the win means to her. We've got a few tidbits from her …read more