By _YBF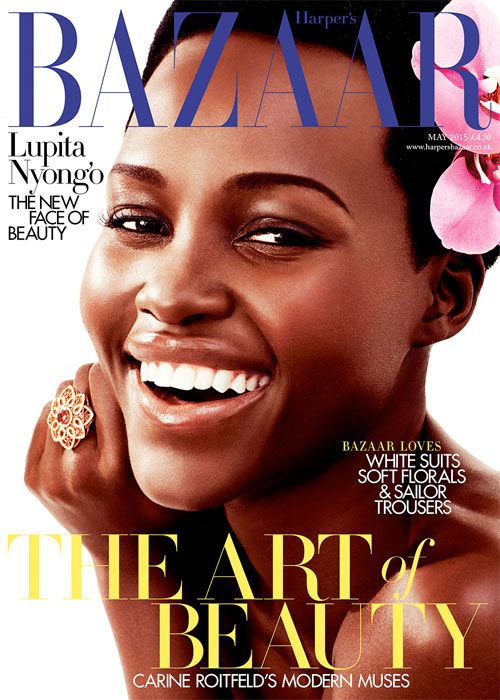 Oscar-winning actress Lupita Nyong'o brings her stunning features and flawless skin to the cover of Harper's Bazaar UK magazine's May 2015 issue. And she does NOT disappoint with her breathtaking cover and gorgeous spread. Soak in her beauty inside…
Take notes! This is how you effortlessly SLAY a magazine cover.
Academy Award winning actress Lupita Nyong'o is absolutely stunning on the cover of Harper's Bazaar UK May 2015 issue, dubbing her "The New Face of Beauty."
We don't necessarily agree with her being the "new" face of beauty since she's been serving gorgeousness since she hit the scene, but she definitely embodies all things beautiful.
Shot by Alexi Lubormirski, the Kenyan beauty is radiant, flashing her pearly whites with a beautiful pink flower in her hair. The Lancôme ambassador whose rise to fame has been nothing short of a whirlwind, sits down with magazine journalist Sophie Elmhirst in London for the cover story.
In a snippet from her interview, the Yale graduate opens up about finally getting to a point where she's comfortable enough with herself to let loose and dance in front of people. She said before, she was afraid to dance and would be worried if she looked "cute". But now, she doesn't care. She's owning who she is and doesn't care who's watching. She spilled,
"There was a time when I was afraid to dance. My older sister would dance with abandon,' she continues. "She would do it to entertain. I was so mortified at the thought of wiggling my body in any direction. And I wrestled with myself, because I didn't want to be so self-conscious. I wanted to be able to enjoy music and not care that I looked cute. I don't know when something switched in my head, but I'm so glad it did, because I feel like dancing, and being able to enjoy one's body for oneself is such a precious, precious thing. For yourself, you know?' She pauses. 'If this had happened to me at a time when I couldn't dance – ha – my God, I think I would be way more of a wreck."
Ha!
Peep the Harper's Bazaar subscriber's cover (which we showed you yesterday) and her spread below:
Dress: Louis Vuitton
Dress: Louis Vuitton
Perfection!
Photos: Harper's Bazaar