By Natasha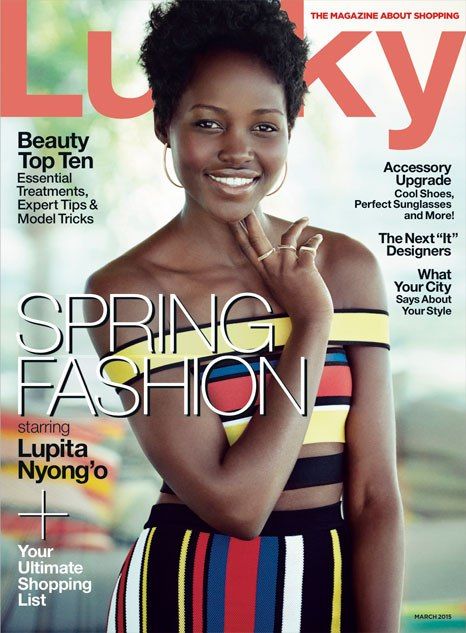 Lupita Nyong'o always knows how to serve up the pretty factor. And we've got her March 2015 cover of LUCKY magazine inside. Plus, "Empire" crew Jussie Smollett and Lee Daniels take a stand against bullying and discrimination….
Lupita is ushering in spring for the March 2015 cover of LUCKY fashion shopping magazine. In a colorful striped two piece off-the-shoulder crop top and matching skirt, the Oscar winner is all smiles….and probably much less stressed than last Awards season.
The It-Girl may be attending all the shows this season, but since she's not up for Awards this time around, she can kick back, enjoy and sit pretty on a few magazine covers and on the red carpet.
On deck for Lupita: The style queen is set to team up with David Oyelowo for "Americanah" and "Queen of Katwe", plus she's be taking her place in space in the upcoming Star Wars sequel trilogy's second film Star Wars Episode VIII in 2017.
The full cover story and shoot will hit the net early next week. The issue hits newsstands February 17th.
Meanwhile, over in the "Empire", star Jussie Smollett and director Lee Daniels are standing up against bullies and discrimination. The two join "Empire" star Taraji P. Henson in the NoH8 campaign:
Jussie, who plays music mogul Lucious Lyon's gay son 'Jamal' on the hit show, gave his take on what this campaign means.
And openly gay director Lee Daniels also posed for the powerful shoot:
Nice!
Photos: NoH8's IG/Lucky Magazine