By _YBF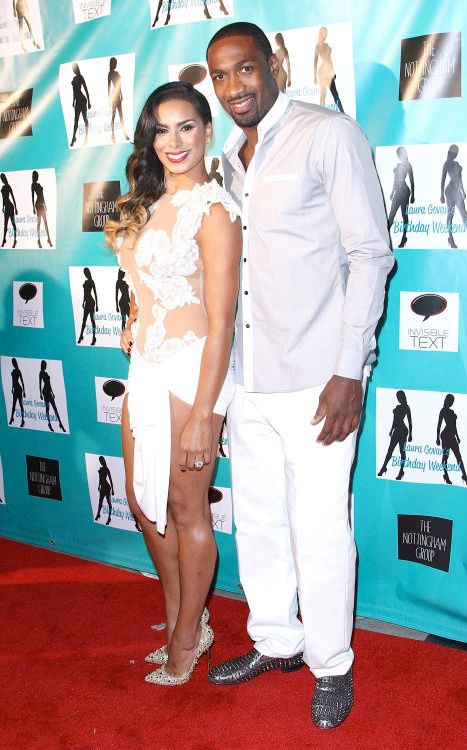 Laura Govan has lawyered up and is firing off a lawsuit against her children's father Gilbert Arenas after he allegedly kicked her out of their L.A. mansion AND sold her $1 million engagement ring. It's like déjà vu. Get the latest inside….
From break-ups to make-ups to lawsuits and miscarriages, there's A LOT going on with reality star Laura Govan and former NBA baller Gilbert Arenas.
The former "Basketball Wives L.A." star is suing her ex-fiancé (above during happier times in 2013) for allegedly kicking her out of their mansion in L.A. (for the umpteenth time) AND selling her $1 million engagement ring.
We told you in January the two had called it quits when she announced she was single on the red carpet (along with her sister Gloria Govan) at The Wedding Ringer premiere. At the time, it appeared it was amicable split based on the way she addressed being newly single, but clearly ish has hit the fan and they will be duking it out in court.
TMZ got ahold of court documents where Laura claims she and her former lover are in the process of calling it quits. But, she's not happy with the way Gilbert is handling the break-up. She says, although the two never had a formal wedding, they "lived together as husband and wife" and that Gilbert promised they would share everything equally in his earnings from 2003 and so on. So, she wants her cut! (SIDENOTE: You see where playing house gets you).
The docs reveal, Gilbert "notified [Laura] to vacate the premises" of their home after the relationship went sour in late 2014. She also claims he took her $1 million engagement ring (without her permission) and sold it!
The two have been dating since 2002 and have four children together:
You'll recall, in 2010 he allegedly abandoned her while she was pregnant with their fourth child, packing his ish to move from DC to Orlando (after he was traded to the Magic) and didn't even say goodbye. He allegedly cut off all communication with her and his kids at the time.
In 2011, Laura decided to star on "BBW LA" where Gilbert then issued a lawsuit against her and "BBW" producers to keep her from talking about him on the show. The suit was later dismissed and the two reconciled.
After reuniting, it seemed all was well between the two until recently, Laura revealed she was a single lady. Following her "single lady" announcement, she shared on Instagram she had suffered a miscarriage in March of this year. Yes, she was pregnant with baby #5 after all that they have been through. Sighs….the drama continues.
Now, lawyers are involved and it looks like it will only get messier.
Photos: Nottingham Group/Laura's IG