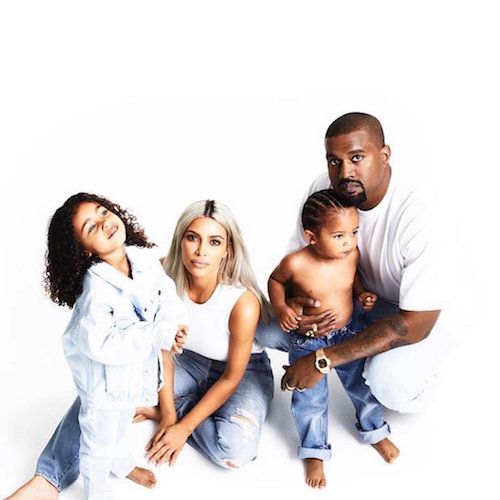 Newborn Baby West's name was just revealed, and the internets are having a FIELD DAY.  All the deets inside…
Just days after announcing her birth via surrogacy, Kanye & Kim Kardashian West have revealed her name.  Introducing: Chicago West!
Well, that's new.
Chicago West. https://t.co/3MyLwcIzTh

— Kim Kardashian West (@KimKardashian) January 19, 2018
North, Saint & Chi

— Kim Kardashian West (@KimKardashian) January 19, 2018
Their oldest daughter North was named for the highest star in the universe and baby boy Saint was named for, well, it's self-explanatory.
It's unclear how The Wests decided on Chicago.  We're not sure if they just watched Poetic Justice and got inspired (Thanks Joe Torry!), or if they want to redefine the stereotypical negativity attached to Kanye's native city these days.  Maybe folks will start to associate something different with the city name "Chicago" when they see it, since Chicago West will surely dominate headlines just like the rest of her family.  We wouldn't be surprised if 'Ye wanted his baby to be named after what he feels is the best city on earth.
What we can say is this may have been one of the blackest moves 'Ye (pictured above leaving his L.A. office today) has made in a while.  So, salute. 
And for those of you who've been under a rock and never heard anyone refer to Chicago as "The Chi" (and never heard of the new Showtime series of the same name), leave it to Khloe K. to explain the pronunciation:
I LOOOOOOOOOOVE her name hey Chi (shy) https://t.co/Ikd0ay3DsO

— Khloé (@khloekardashian) January 19, 2018
Mk.
Naturally, the internets are on one:
"Who's ever going to hire somebody named Chicago?" You think an offspring of Kim Kardashian and Kanye West is filling out applications???

LMFAOOOOOOOOOOOOOOOOOOOOOOOOOOOOOOOOOOOOOOOOOOOOOOOOOOOOOOOOOOOOOOOOO

— DAMN. (@xCobbx) January 19, 2018
Chicago West isn't a community college?

— Travon Free (@Travon) January 19, 2018
Chicago West sounds like a hospital.

— king crissle (@crissles) January 19, 2018
chicago west sounds like a nbc show that's a ripoff of law & order svu that debuted in the fall of 2007 that came on from 9:30 pm est. that only lasted one season because of bad ratings that returned in 2009 only to be cancelled again the following year

— saint laurent mask (@nasmaraj) January 19, 2018
*white parent voice* I can't believe Kim and Kanye named their baby girl Chicago West, that's ridiculous! Oh no, it's almost 4:30, I need to pick up my kids Lakynn and Nayvie. pic.twitter.com/NfToiowbfh

— Denizcan James (@MrFilmkritik) January 19, 2018
Chicago West pic.twitter.com/uDp60t0Zyj

— MTV (@MTV) January 19, 2018
Kanye reading all the Chicago West tweets like… pic.twitter.com/N3zWXmLdNM

— WGCI (@WGCI) January 19, 2018
And there's this shade:
The naming of Chicago West comes two months after Kanye was here for the Kid Cudi show @AragonBallroom. Kim, on the other hand, canceled her last two scheduled visits to the city: https://t.co/jg2DR6jxna

— tracyswartz (@tracyswartz) January 19, 2018
Oop.
Well, if folks can name their kids Savannah, Jackson, Paris, Dallas, India, Alaska, London and countires/contininets like Asia, China, Malaysia and America, so be it.
Photo: Instagram/Splash