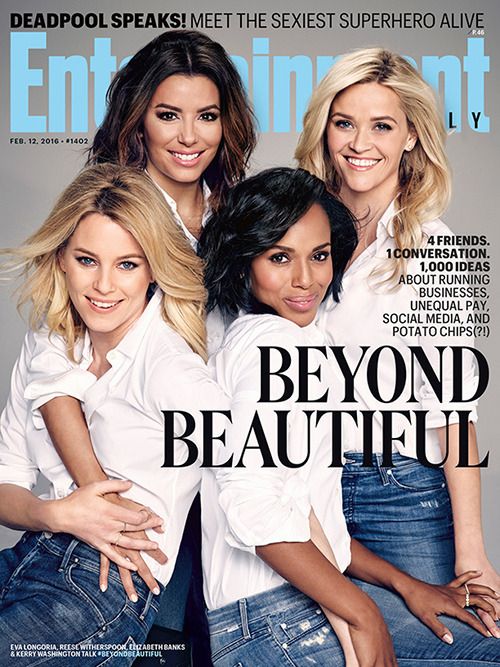 Kerry Washington and Zendaya are gracing the covers of two magazines. Come inside to find out what the "Scandal" star has to say about societal pressures women face and what the "K.C. Undercover" star says about excessive photoshopping….
"Scandal" starlet Kerry Washington is featured on Entertainment Weekly's newest issue, dubbed "Beyond Beautiful," where she is joined by fellow actresses Reese Witherspoon, Eva Longoria and Elizabeth Banks.
The Golden Globe nominee sits down for an unfiltered round table discussion with the other ladies to discuss everything from Hollywood's sexism, societial pressures women face (in general), what it feels like to take charge and more.
In a clip, Kerry touches on what it's like growing black in America, where black people have to be TWICE as good to get HALF of what we deserve. If you're an African-American, you may have had this exact conversation with an elder at one point in your life. Often times, African-Americans are reminded to go the extra mile if you want to accomplish your goals and be recognized for the hard work you've put it. And it also holds true being a woman in America.
Kerry eloquently started off the conversation saying,
"It reminds me of this line that Shonda Rhimes wrote on our show that has really resonated with African-Americans. It's this idea you have to be twice as good to get half of what they have. It's something that most black people I talk, when they heard that line, it completely resonated with how they were raised and the messaged their parents gave them. 'That's just the truth.' I think it's the same for women. You just know, you have to be twice as good. In a way, until girls don't have that feeling, we will not have done our jobs. That's almost the point: to not feel the pressure to be extraordinary."
She then went on to say that she loves that they can get together and celebrate each other (girl power!), but she said the need to this is the problem.
"It will be so exciting when we don't have to do this because we're just equal players at the table," she said
Very well said.
Peep the clip below:
The full video of their round table discussion will be released online Friday (Feb. 5th).
On another magazine cover…
Fab chick Zendaya just launched her new "DAYA" shoe line and now she's taking over the magazine circuit with a HOT new cover. The "K.C. Undercover" star graces the Spring issue of NEW YOU magazine and she totally nails it, per usual.
Work!
Inside, the socially conscious 19-year-old YBF chick opens up about excessive photoshopping where she encourages other young people that they are perfect at being themselves. We know y'all remember when she popped off on Modeliste magazine for photoshopping her pics in one of their issues. She's passionate about her beliefs and isn't afraid to speak out on it. Just another reason why we're so obsessed.
The gorgeous teen starlet also lets her hair down about her biggests fears, ignoring bullies in school and using her starpower for the greater good.
Peep the highlights below:
ZENDAYA DISCUSSES HER VOCAL STANCE ON EXCESSIVE PHOTOSHOPPING: "There is no such thing as ugly. That's a word that doesn't really enter my vocabulary. If there's any definition to being perfect, you're perfect at being yourself. No other person can be you 100 percent; no one has your fingerprint; no one has your DNA. You are you 120 percent, through and through. Whether it is through my social media or whatever, I want anyone who looks up to me to know that I go through the same problems. I have to be confident in who I am. When I learn things about myself, I like to share that journey with people because I know there are a lot of people going through the same thing."
ZENDAYA MESSAGE TO TODAY'S YOUTH ON "THE NEW COOL": I want to promote to young people that it's okay to be a good citizen. It's okay to learn. It's cool to be knowledgeable, to know what's going on in your country and your world. To form opinions and to talk about it, have discussions and be respectful. I'm trying to make that the new cool."
ON LOVING YOURSELF AND NOT BEING "BOTHERED" BY HER BULLIES: "I was made fun of [in school] but it didn't bother me very much because I was very comfortable in who I was. I was taught as a young child by my parents and family to love myself. And it's the same today—there are certain things that don't bother me. I just focus on being a good person. I was always very aware of the world and I was never sheltered from the negative things that were out there. I feel that if you shelter your kids from everything, one day they are going to be out in the world on their own and they are going to have to figure it out. You can't give them a test if you never taught them anything that's on the test. They're going to fail. You have to prepare people and sometimes that's just being honest with them and letting them know things sooner."
HER BIGGEST FEARS: "Everyone is scared of something. For me, I'm a Virgo so I'm a perfectionist and I am afraid of not being perfect; of things failing or not doing as well as I think I should. That's a constant battle that I have with myself because I hold myself to really high standards and I want to be so good. Sometimes I'm like dude, you're only 19! Relax, stop overdoing it, and just breathe for a second. You're doing really good, you're on a roll here, stop stressing yourself out!"
WHERE SHE WANTS TO BE IN 10 YEARS: "Ten years from now I see myself doing what I love to do and doing great stuff for humanity. When I say doing what I love to do, if I decide in five years that I don't want to sing, …read more