By _YBF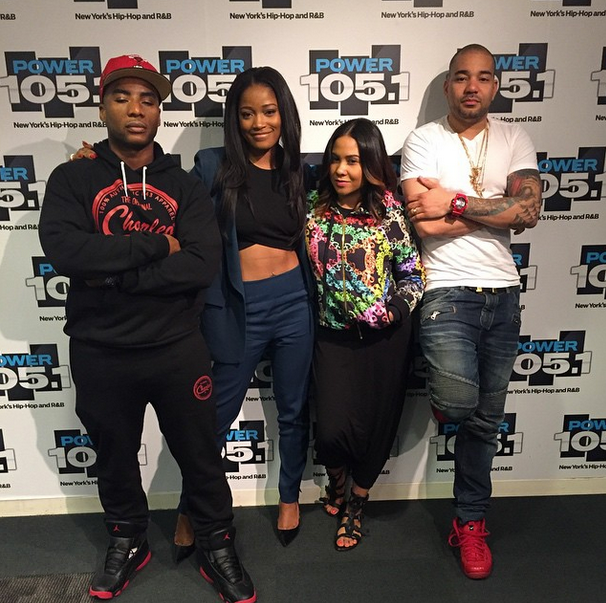 Keke Palmer hit up "The Breakfast Club" this morning to chop it up about her dating life, the Tia Mowry Hardrict drama, her struggle to be seen as an adult actress, backlash she's received and so much more. Check her interview inside….
Brotherly Love actress Keke Palmer stopped by Power 105's The Breakfast Club to touch on a plethora of topics. And, as usual, she kept it very classy, fun and all the way real.
The 21-year-old star let us in on her dating life and why she doesn't date many guys in the industry. She also addressed the Tia Mowry Hardrict situation (again) after Tia threw shade at her on Twitter over a comment she made about her husband Cory Hardrict.
The Chi-town native also revealed she's writing a book about her struggles growing up as a child star, how she's transitioning from a child actress to an adult actress, how her parents have been instrumental in her career, being a businesswoman, how she handles negative backlash when she addresses social issues and much more.
Below are the highlights:
On who she would f*ck, marry, kill:
Lil Durk: Marry
YG: Kill
August Alsina: F*ck
On why she chose to "marry" Lil Durk:
"He's a real dude. Durk is not petty, he's not gossipy. He's very chill and he's very nice and we're both from Chicago. He's a real good guy." Is there potential? "Never say never."
On dating celebrities:
"I don't do a lot of dating in the industry because it's not as relax as people think it is."
On Tia Mowry Hardrict drama:
"I don't really know what happened with that to be honest with you. I think a lot of times with social media people will see one little sound bite or one little thing and add something to it. Who know what someone may have sent her. You can't prove yourself to people. I'm not trying to steal somebody's husband. That looks crazy. I grew up watching 'Sister, Sister,' so even if I was this crazy type of hussy, I wouldn't be trying to steal my inspiration's husband. I love her."
On defending herself on transitioning from a kid star to an adult actress:
"Whatever people start noticing you for they want you to stay the same way. Since I started as a kid it's impossible for me to play kid roles and I'm a grown woman. It came a point in my life I wanted to make a slow and easy transition. I wanted it to be a slow gradual climb. It's been a different transition for me."
On people calling her a THOT because she got a piercing:
"I'm not doing anything any other normal 18, 19-year-old would do. I like piercings, so yeah, I'll get my eyebrow pierced, I'll get my nose pierced. People also don't understand I'm an actress, so I never get to be myself, especially when I was doing Broadway at that time. I spent the whole entire four months being Cinderella. When I wasn't sleeping, I was on stage being someone who isn't me and that can be stressful. So when you're done with that, yeah you're going to break loose. You have to live your life for you."
On the backlash she receives when she speaks out on social issues:
"I think it's just like your family members. I think a lot of times people see me as that because they've seen me grow up. People just have to get use to me not being a kid anymore."
On her own struggles growing up:
"I'm writing my first book right now. I grew up in a home where I was the financial breadwinner. Imagine what that dynamic was like. I made so much money that there was no reason for my parents to work, so that shifts the family dynamic. Or the fact I gave up my entire childhood to be an actor. Yeah, I got something wonderful in return, but imagine what that felt like when I'm filming a movie and I can't see any of my friends and most of my films is with adults. My real point is to say, everyone has a struggle in a different form."
On being a woman who is a boss:
"You can be a boss and be sexy at the same time. That's what I love about Beyonce. You can be feminine and a businesswoman. I think a lot times when a woman is businesswoman she feels as if she's lost a bit of her femininity or that she can't be sexy or that she can't be that sweet sensitive thing. It's like you have to be one or the other. I've run against that myself as well. I'm like wait a minute, am I gay? You have a moment where you feel like, why does it feel as if guys aren't attracted to that? Why does it feel like it's a role reversal? The guy completely changes."
On being single:
"Guys aren't the first thought on my mind. It's very fun being single because you know what happens? You find yourself."
On her parents being instrumental in her career:
"I talk to God, 'What did I do to deserve a mom a dad who love me?' Besides the fact that they changed their life to help support my dreams. They just simply love me. Period. And I think that's another reason why I stay so focused because I want them to be proud. My mom has been apart of my life even before I got into acting. When I was in school, if someone said something she would come down to the school and make me feel like I was important. I know what they did for me and I show the gratitude in everything I do."
Keke's mom Sharon Palmer joins the conversation to talk about the biggest hurdle she's faced with raising a child star. She said:
"The biggest hurdle….I think is friends. The friends come and go. You go off and do a movie when you go back, their life has evolved in a different direction. Sometimes friends come into their life …read more