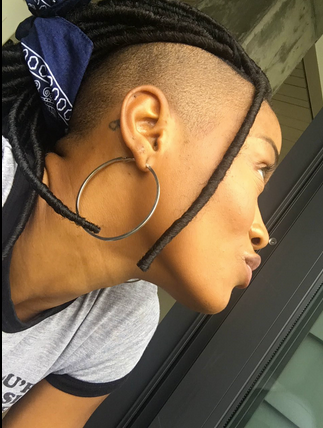 KeKe Palmer is grown and trying new things. But not everybody can handle it. See what she has to say about her new look and new tatt blowing up, plus her brand new song and video….
"Scream" star KeKe Palmer went and got faux locs and a new tattoo….because she can. But everybody seems to have an opinion. Especially about this new tatt of hers.
Recently, KeKe showed off this back-of-the-neck tattoo that says Queen of Kush underneath pyramids.
People have tossed around the rumor that she may or may not love to partake in that smoke. She could have also just been using it as a play on words. When she cleared up what it meant, the latter rings true:
The Kingdom of Kush or Kush was an ancient African Nubian kingdom situated on the confluences of the Blue Nile, White Nile and River Atbara. (1050/1070 B.C. – 350 A.D.) but at the height of its power in about 700 B.C. the Kingdom of Kush controlled the entirety of Egypt itself with Kushite Pharaohs ruling. What I love most is it's history's of female rulers!! In school, we very rarely ever learn about female rules and never about African rulers. Amanirenas was one of the most famous Queens of Kush. She reigned from about 40 B.C.E. to 10 B.C.E. She is one of the most famous kandakes(means queen really but that was the title back then), because of her role leading Kushite armies against the Romans from in a war that lasted five years (27 BCE – 22 BCE). She was able to communicate a peace treaty that favoured the Kushites, granting them land and an exemption from future taxation. She has been described as brave, with one eye #MyAncestors P. S. "Egypt" is a Greek word meaning black, hence the rename when they invaded. (shoutout to @threekingstattoo in Brooklyn)
KeKe took advantage of being a trending topic and released a new song and video called 'Yellow Lights'. She explained the concept, which was inspired by Aaliyah's "4 Page Letter":
"I was trending on Twitter , I have been evolving as a young woman and I notice it has been gaining a lot of attention some good and some bad comments, and that is ok because it shows that people care about me and thinking about me and that is good stuff , one of my favorite videos was 4 page letter by Aaliyah so the vision for the video was a take on that vibe , mixed in with who I am as an artist. I have my " shadow kids " dressed in black, I first introduced them in my " Enemiez video ", they represent my conscience . I love Aaliyah to me she was a true artist in every since of the word and I continue to just be inspired by her and let my heart guide me as always."
Check out the video below:
Since I'm trending #KekePalmer https://t.co/yEgOMhspo2https://t.co/frXiQeQls8
— Keke Palmer (@KekePalmer) June 14, 2016
BONUS: Speaking of KeKe videos, she did two concept dance vids recently to Desiigner's "Panda" and Drake's "Controlla":
A video posted by Laurennnn Palmer (@kekepalmer) on Jun 8, 2016 at 11:34am PDT
A video posted by Laurennnn Palmer (@kekepalmer) on Jun 8, 2016 at 9:24am PDT
EXTRAS:
1. Childish Gambino, aka Donald Glover, was just booked to star in the upcoming Spiderman moie STORY