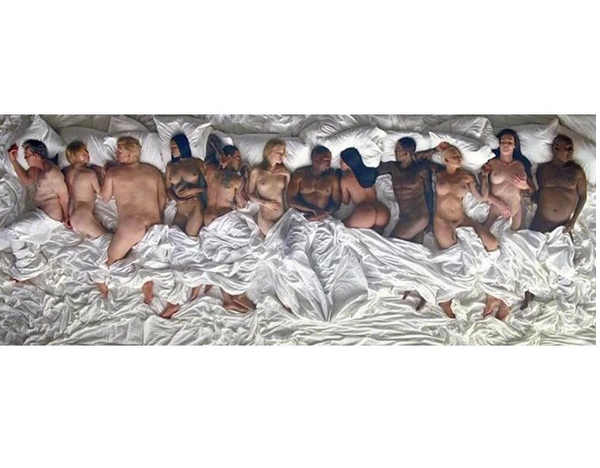 Kanye West just released the visuals to his controversial track "Famous" and it is many things. Come inside for more…
Kanye West knows how to grab folks attention.
On Friday, Yeezy held an event at the Forum in L.A. where he livestreamed the visuals to his controversial track "Famous," a cut from his The Life of Pablo album. And then, the cover art popped up online.
In the piece, we see Ye laying naked in bed with his naked wife Kim Kardashian West and several other celebrities. The interesting line up of celebs include George Bush, Anna Wintour, Donald Trump, Rihanna, Chris Brown, Taylor Swift, Ray J, Amber Rose, Caitlyn Jenner and Bill Cosby. Like we said, it's many things.
It's unclear if the figures are wax figures or actual people, but they appear to be made out of wax.
In the video treatment, the camera scans across each of the naked figures revealing their faces before the track is stopped half way through the song.
As for how this all came about, Ye told Vanity Fair recently his wife gave him approval before he put out "Famous." He said, "[I say] a lot of lines other wives would not allow a husband to say. But my wife also puts up photos that other husbands wouldn't let them put up. One of the keys to happiness in our marriage is we're allowed to be ourselves."
Oh.
Peep the clip below:
We are waiting to find out everyone's reaction to their "involvement" in the video. We doubt Taylor Swift was on board for this. However, one celeb has responded to their involvement already:
Chris Brown found it amusing.
Photos: Swizz Beatz's IG