By _YBF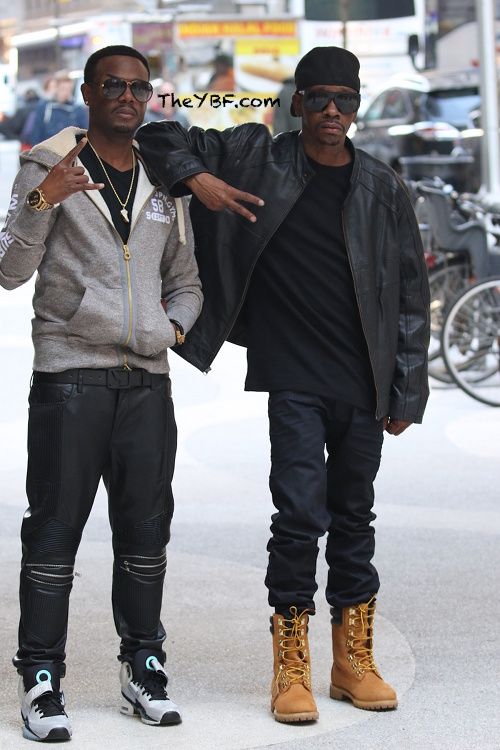 Jodeci is back with a brand new album! And while on the promo trail, the guys stopped by The Breakfast Club to clear up one big misconception: They were NEVER on hard drugs! They also dished on the time Mary J. Blige acted out during a concert, hopping on stage because women where touching her "man" K-Ci, their affiliation with Death Row Records during the East Coast/West Coast beef and much more.
Check it inside….
We've been telling you about Jodeci's epic comeback since they reunited on stage at the 2014 Soul Train Music Awards. After nearly 20 years since dropping their last album, the "Bad Boys of R&B" are back with their fourth studio album titled, The Past, the Present, the Future (March 31st). And they guys haven't missed a beat.
JoJo, K-Ci and Mr. Dalvin (atop in NYC this AM) hit up Power 105's The Breakfast Club to chat it up about their upcoming LP and also answered questions many 90s R&B fans wanted to know. DeVante was unable to make the interview due to not being able to fly. We'll get to more on that in a minute.
In the interview, the R&B crooners, hailing from Charlotte, NC, talked about their journey to the top of the music charts. The foursome went from four country church boys to R&B "bad boy" legends.
Once signed to Uptown Records (working with Diddy, who was an intern at the time), the guys talked about their rise to fame and how it affected them. They revealed how, at such a young age (early 20s), being able to have anything you wanted and any girl you wanted turned them out. One big misconception about the guys is that they struggled with drug addiction, which they say is NOT true. Yes, they drink alcohol and they may smoke a little weed, but they have never been addicted to any hard drugs, according to them.
The guys revealed DeVante doesn't fly on airplanes due to major anxiety and has to take a tour bus to all of their appearances, which explains why he wasn't in attendance for the interview.
The guys also talked about their past relationships with other R&B singers such as K-Ci's tumultuous relationship with Mary J. Blige and Dalvin's relationship with TLC member T-Boz. They recalled a time Mary hopped up on stage while they were performing and CURSED OUT a female fan for touching her man! Yep, throwback Mary wasn't having it!
The fellas touched on their affiliation with Death Row Records (Suge Knight) in the midst of the East Coast/West Coast beef that was boiling over between rap legends Tupac and the Notorious B.I.G. They said they never wanted to get into the middle of that, but, of course, since they had a relationship with Diddy, they were thrown in the mix. But, they said they have a good relationship with Puff (Diddy) and that he always had their back.
They also talked about how they came up with their name Jodeci, how their God-fearing parents felt about them singing secular music, their relationships with other R&B groups (Boyz 2 Men, Dru Hill), their relationship with Tupac, how they feel about R&B today and much more. Oh, and despite their sometimes erratic behavior, they swear they've never done hard drugs.
Below are the highlights:
On them NOT being on hard drugs even though there's a misconception that they were on drugs:
K-Ci: "Naw, not no drugs. Weed, yea, but not no hardcore."
On why they went on the show "Come Clean" about battling their addictions:
K-Ci: "This is what we do. We party. We coming clean, telling the truth."
Jo Jo: "We have our drinks. We smoke our weed. Well actually, I don't even like weed."
On K Ci's 12 year relationship with Mary J. Blige :
K-Ci: "We had fun man. We was young. It just exploded. I'm not gone lie, I did some things. She couldn't take that heat. I was in love with Mary. She never did anything wrong to me. She always gave me my props.
On how Mary used to go hard for K-Ci:
K-Ci:"I remember one night in London she came up on stage and snatched the mic from my hand. She told this girl in the front row, 'B*tch, don't you ever touch my man again.' I couldn't take that no more. She use to break up our [hotel] parties. "
On Dalvin's relationship with T-Boz:
Dalvin: "That was a cool relationship it was fun.
K-Ci: "Remember when we use to take T-Boz and Mary out?
Dalvin: "Man I'm not talking about T-Boz and Mary stories up here man. [laughs]"
On Devante not being there because of anxiety he's developed from being in the industry:
Dalvin: "He developed high anxiety from flying. He had to take a tour bus all the way to Aspen, CO (to film the visuals for their new track "Every Moment"). He has to get around on a tour bus."
On their "bad boy" image:
Dalvin: "We just wanted to be like just some n*igga on the street can relate to."
On their affiliation with Death Row Records:
Dalvin: "My brother [DeVante] met Suge Knight. As they talked, he [Suge] just noticed things weren't right with Uptown. He wanted us to do some stuff with Death Row artists so he wanted to come in and help fix the situation with Uptown. We were never signed to Death Row or Suge Knight. We didn't choose to get in between that [East Coast/West Coast beef] but they just kind of threw us in that because of our relationship with Puff."
On their relationship with Diddy:
K-Ci: "We're good. He believed in everything we tried to do."
On how Jodeci has changed over the course of 25 years:
Dalvin: "We got a lot wiser. Things are a little more serious now. It's work now. Back then it was just fun, it's still fun, but it's more work."
Jo Jo: "I'm married, grandfather. Proud. Now, I just look at it like it's a business and I want to spread the joy. I know what love is about …read more