By _YBF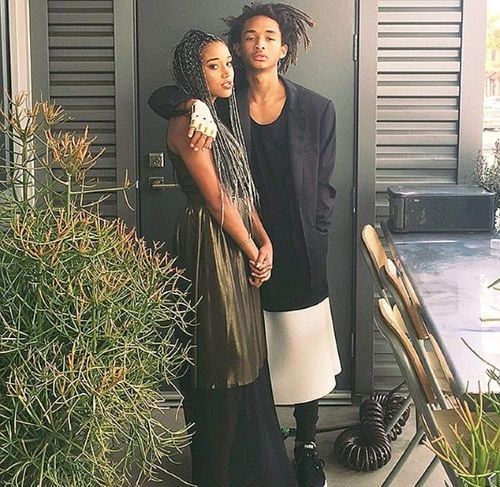 Jaden Smith escorted actress Amandla Stenberg to her prom and let's just say….his dress got more attention than hers on the internets. Check out the pics inside…
One of the most talked about escorts during the 2015 prom season is undoubtedly actor Jaden Smith. Young Jaden already raised eyebrows a fews weeks ago when he escorted singer Mecca Kalani to the prom while dressed as the Caped Crusader in a white Batman costume. Of course those pics went viral….but he's REALLY outdone himself this time.
Over the weekend, Jaden escorted 16-year-old actress Amandla Stenberg, rocking a bronze dress and braids, to her prom. Amandla plays "Rue" in The Hunger Games.
While we thought Jaden shut it down as Batman a few weeks ago, he caught attention by rocking a black blazer over a long, black and cream color block over-the-knee shift dress. He topped it off with black skinny pants, sneakers and a white and gold fingerless glove on one hand.
At least Jaden does coordinate his attire with the lady on his arm. In fact, Amandla tweeted that he was a "gentleman." When he isn't accompanying Hollywood starlets to the prom, Jaden is still busy building his resume on the silver screen (e.g. he'll start shooting The Karate Kid 2 soon). But next up for Jaden is a tv pilot named "Brothers In Atlanta." We'll let you know if it gets picked up….
Photos via amandla stenberg Instagram