By _YBF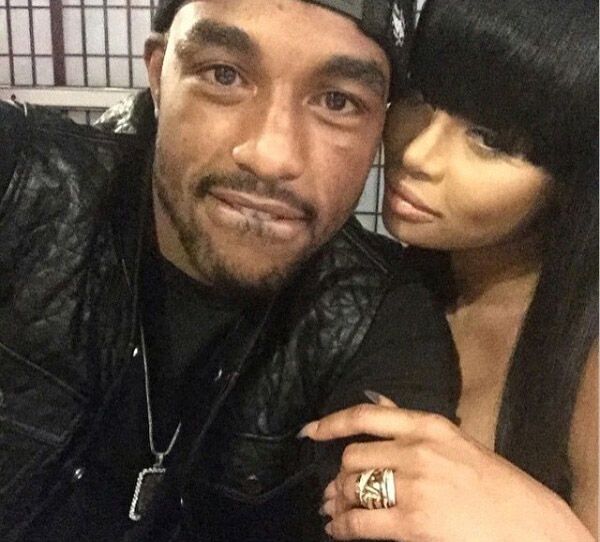 Does Blac Chyna have a new man in her life? It appears so. She has been getting cozy with professional boxer J'Leon Love in the past few days. Both Chyna and J'Leon have been posting up cutesy photos and videos on their Instagram accounts. Get the deets on their budding romance and find out why K. Michelle read neo-soul singer Jaguar Wright for filth on social media last night inside….
While her ex-fiance Tyga runs around with his underaged girlfriend, Blac Chyna has found herself a new man…and one her age.
Meet 27-year-old professional boxer J'Leon Love. He is the current WBA International Super Middleweight Champion signed to Floyd Mayweather's Money Team Management. It appears he and Blac Chyna are getting close after she posted him as her #MCM on Instagram last week. Since then, the two have posted up lovey dovey videos of one another and J'Leon posted the coupledom pic atop, but eventually deleted it. BUT, the videos are still there.
In one clip, J'Leon and Chyna are laying across what appears to be a bed with The Weeknd's "Earned It" playing in the background as they talked about people assuming they're in a relationship. Why ever would people assume that?
Check it:
A video posted by J'Leon Love (@jleonlove) on May 25, 2015 at 10:14pm PDT
And another….
Smh @blacchyna play to much.
Posted by J'Leon Love on Wednesday, May 27, 2015
Mmmhmm…
Then, Chyna posts a video of her "stealing kisses":
A video posted by www.Lashedbar.co (@blacchyna) on May 26, 2015 at 3:15pm PDT
Neither Chyna or J'Leon have confirmed they are actually in a relationship, but it definitely looks like the makings of a budding romance.
Right now, J'Leon is training for a huge fight at the MGM Las Vegas against Jason Escalera on June 20th. Many boxers refrain from engaging in sexual acts before fights, and according to reports, J'Leon is doing the same. So, no sex for them for at least a month. Sources close to Chyna tell TMZ she's down for the cause saying, "I feel like it's a good thing and I'll deal with it with him!"
We hope so. A month isn't THAT long to wait before jumping in the bed with someone after just meeting.
Elsewhere on social media….
Another day, another social media showdown. This time, R&B songstress K. Michelle and neo-soul singer Jaguar Wright were going at it after Jaguar voiced her opinion on K. singing one of Leela James' songs. We'll explain….
On Monday, "Love & Hip Hop: New York" stars Yandy Smith and Mendeecees wedding special aired where K. Michelle was asked to sing a selection. The reality star sang a cover of Leela James' track "Fall For You," a single from her fifth studio album with the same title released in 2014.
Well, that didn't sit well Jaguar, so she took to her Instagram to speak on it. She posted up a video clip of K singing with the caption:
Bloop!
If you're unfamiliar as to who Jaguar Wright is, she is a Philly native who sung background vocals on Jay Z's MTV Unplugged special. She is also a member of QuestLove's Okayplayer collective, providing background vocals for The Roots and Al Green. She also appeared in a few Sprite commercials back in the 90s.
In response to K's clap back, Jaguar then posted up a series of videos to respond to explain what she really meant when she came off. She claims she didn't say anything bad about K, she just wished it was Leela singing her own song. The Philly native said it would have been appropriate for Leela to sing the song because she's currently touring and promoting the song "Fall For You." She said "It's not like the song is 8 years old and it was just apart of a catalog, it's current."
Peep the videos:
A video posted by Jaguar Wright (@jaguarwright) on May 26, 2015 at 10:45am PDT
A video posted by Jaguar Wright (@jaguarwright) on May 26, 2015 at 10:47am PDT
A video posted by Jaguar Wright (@jaguarwright) on May 26, 2015 at 10:53am PDT
A video posted by Jaguar Wright (@jaguarwright) on May 26, 2015 at 11:03am PDT
So what does Leela have to say? She doesn't seem bothered the least bit. In fact, her track "Fall For You" started trending on iTunes top searches and it was pushed to the top of the iTunes charts, coming in at No. 3 on the Top Songs list. We're sure Leela is all for her music climbing the charts, even if it's because of a social media feud.
While we get what Jaguar is trying to say, it's not like K had much of a choice on the song selection. Yandy chose that song and chose K to sing it so…there's that.
In other news….
K. Michelle announced she has a new show titled "Players Court" coming to VH1 soon. She didn't reveal what it's about, so we're just going to have to wait until the deets are spilled. She's also filming for her other VH1 reality show "K Michelle: My Life." Not only that, the award winning singer also has a documentary series coming to Centric called "BEING K. Michelle." The one-hour premiere is set to air June 6th at 10pm. Congrats K.
Photos: Blac Chyna's IG/J'Leon's IG/K's IG/Jaguar's IG