By _YBF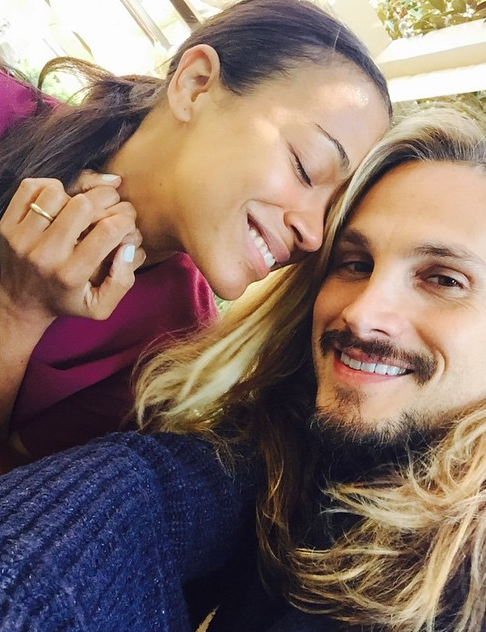 In the latest issue of InStyle Magazine, Zoe Saldana opens up about the controversial name change of her husband, Marco Saldana (formerly Perego). Find out what she said inside…
It's a new day…new age..and it's time for some new traditions. Should men consider taking the last name of their wives? It's not a crazy thought. In fact, international box-office darling Zoe Saldana and her husband Marco are dealing with this issue right now. The InStyle cover girl opened up about Marco's decision to "take" her surname.
Here's the backstory: You'll recall that Marco literally POPPED up on the scene. One minute, we thought Zoe was at home crying over Bradley Cooper, then the next minute we she's married. Not dating…married! It was a whirlwind courtship. Now, two kids later (twin boys Cy & Bowie), Zoe tells InStyle,
"I tried to talk him out of it. I told him, 'If you use my last name, you're going to be emasculated by your community of artists, by your Latin community of men, by the world.' But Marco looks up at me and says [she puts on a cute Italian accent], 'Ah, Zoë, I don't give a shhheeeetttt."
Of course….folks have they opinions. Thankfully, Zoe doesn't give a "shhheeeetttt" either. The Guardians of the Galaxy star even revealed she took his last name as well (it's unclear which surname comes first though). On Facebook, she wrote,
Here's our favorite part,
"Men, you will not cease to exist by taking your partner's surname. On the contrary — you'll be remembered as a man who stood by change. I know our sons will respect and admire their father more because their father lead by example.
Gentlemen, I implore you to think outside the box- remove the box altogether. Let's redefine masculinity. A real "man" leads along side his partner. A real man accepts his mortality. A real man acknowledges that nothing can be done alone."
So…are Zoe and Marco on to something?
Photos via Zoe Salanda's Instagram