By _YBF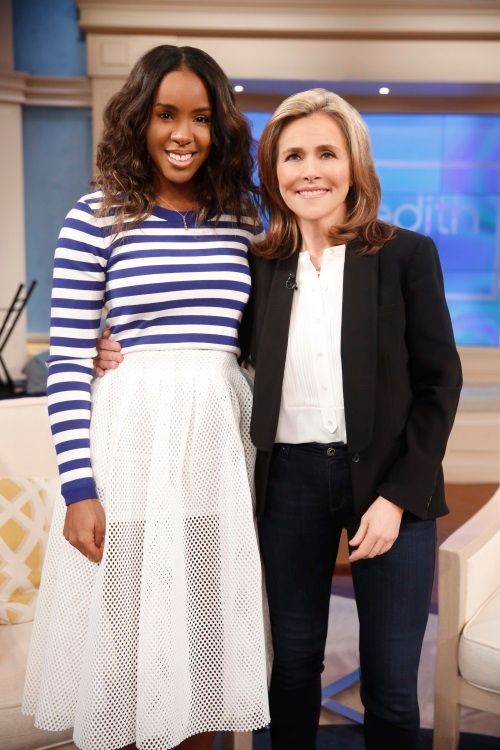 Kelly Rowland graces daytime television today where she answers a few burning questions, like what her hangout sessions are like with Beyonce & Michelle and why she calls herself a "psycho" mom to little Titan. Watch Kelly break it down inside…
On today's Meredith Vieira Show, singer and actress Kelly Rowland stops by to catch fans up on her life as a wife and mommy and to open up about losing her mom Doris Rowland Garrison. And we're sure all Destiny's Child fans would like to know if they ladies still get together and what type of shenanigans they get into. She told Meredith,
"Oh, I don't want to describe those but it's a lot of fun, it's way too much fun. We have a really good time together, just the other day we were able to sit down and have lunch together and just chill. That always feels good. Titan's screaming, Blue's probably climbing something. I am so happy that I have the girls as such a great support system."
And like any new mom, Kelly is extra protective of her son, Titan. In fact, she used the term "psycho."
"Oh God. I'm a little bit of a psycho when it comes to being a mom. When he was first born, I remember I didn't want anybody to touch him. I was one of those irritating moms, 'Oh don't touch him and don't do this and don't do that.' To the point if somebody touched him I would probably slap their hands because I did that with one of my girlfriends babies and the woman went to touch him and I said, 'You don't know him. Don't do that."
Kelly also talked about the passing of her mom and how she's been able to lean on hubby Tim (and even little Titan) for support.
"It's definitely been a challenge. My husband says, 'You know babe you should think about it as a new normal.' I think I've done that but I'm so blessed to have my son. I don't think I've had the time to really really grieve but I feel her presence often. Something that happened the other day Titan was laughing and I was like what is this boy laughing at because it was such a belly filled giggle. I was like what is that? He was looking up and smiling and laughing. I was like, that's mom. I just know she is always near and I am just so grateful for that. God gave me an angel, he took one of my angels away but he still has her covering and hovering over us and I'm so blessed for that."
Kelly Rowland on her "Mommy Style!"
Kelly Rowland talked about "Destiny's Child" get-togethers
Kelly on her mom's death
Photos via Meredith Vieira Press