By _YBF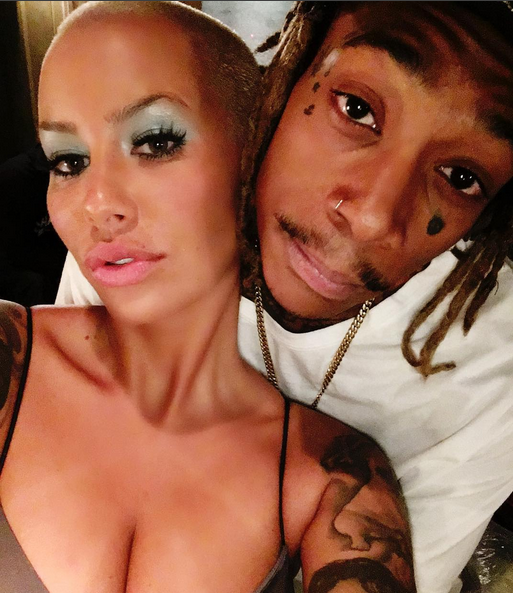 In our couple's roundup, Amber Rose posed with her ex-hubby Wiz Khalifa, Reginae Carter posted a pic of her boyfriend while Tina Knowles Lawson and hubby Richard headed to his high school reunion. More inside…
Well what do we have here? Over the weekend, Amber Rose confronted her past in two ways. On one hand, she hosted her slutwalk where she attacked the naysayers, haters AND ex-boyfriends who've slammed her for her past as a stripper.
On the other hand, she reunited with ex-husband Wiz Khalifa (who has thrown dirt on her name in public). During an emotional speech at the slutwalk, Amber revealed that she has forgiven Wiz for the negative things he has said about her and he has also apologized. Watch the video here. They even hung out together this weekend…both posting pics on Instagram.
Other pics….
We love to see "young love" on the 'Gram. Regina Carter, the daughter of Toya Wright and Lil Wayne posted this cute pic of herself and her boyfriend. She captioned, "Don't we look great."
There's more…..
The lovely Tina Knowles Lawson headed to the high school reunion (HAYWARD HIGH school 1965) of her husband Richard Lawson over the weekend. In the pic above, they posed with one of his childhood friend Reggie Jackson.
Over the weekend, the Lawsons also listened to jazz in Sausalito, Ca. Tina shared several pics, included a jazz breakdown where she and Richard hit the dance floor and showed that she can keep up with Beyonce and Solange.
A video posted by Tina Knowles (@mstinalawson) on Oct 4, 2015 at 8:15pm PDT
Photos via Reginae Carter/Tina Knowles Lawson/Richard Lawson/Amber Rose/Wiz Khalifa