By _YBF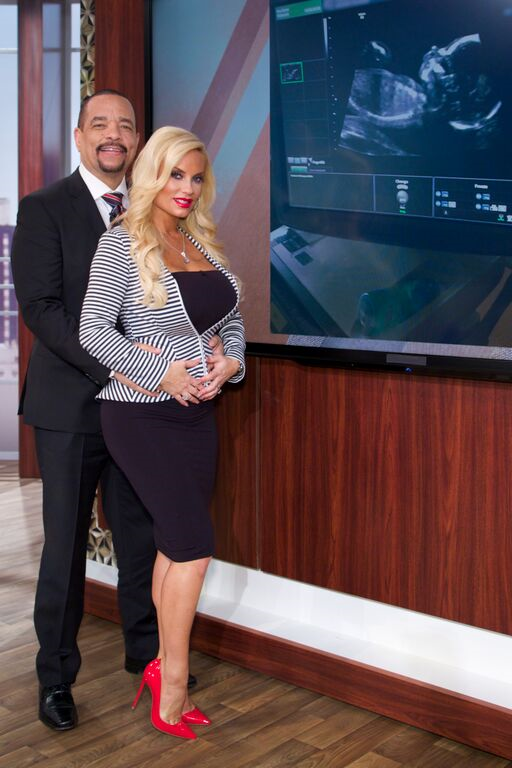 Talk show hosts Ice-T and Coco Austin revealed the gender of their child today. Watch the clip inside and check out a preview of Taraji P. Henson battling Terrence Howard on "Lip Sync Battle" with a special guest…
Veteran actor and famed rapper Ice-T and his wife Coco Austin are expecting a baby girl! Daytime tv's newest duo revealed the news during today's premiere episode of their new daytime talk show, Ice & Coco.
On the clip below, Coco shares that although her bump is barely there, she is actually five months pregnant! They also revealed the name…..Chanel!
Here's how it went down…..
Ice: Is it a boy or a girl?
Ice: What do y'all think?
Coco: Twins?
Ice: Tell em Coco.
Coco: …Make some noise and raise your hand up if it's a boy.
Audience applauses and cheers.
Coco: That's a lot. How about a girl?
Audience applauses and cheers.
Coco: Well…
Ice and Coco (in unison): It's a girl!
Ice: Already got a name…The girl's name is Chanel.
Coco: Yes. Little Chanel.
Ice & Coco premiered today on FOX-owned stations in New York (WNYW), Los Angeles (KTTV), Washington D.C. (WTTG), Atlanta (WAGA), Phoenix (KSAZ) and Detroit (WJBK), as well as on Sinclair Broadcasting stations in Baltimore (WUTB) and Raleigh (WRDC).
In other tv happenings….
Fans of FOX's series "Empire" will be thrilled by the epic battle SPIKE TV put together for an upcoming installment of their breakout series "Lip Sync Battle."
Picture this….Taraji P. Henson vs. Terrence Howard! In the newly released trailer, fans will see Terrence perform selections from Rick James and the Commodores, while Taraji shut it down with her spin on "Just Fine" by Mary J. Blige. Then she brought out MJB! The "Empire" showdown will air as a special one-hour season finale on Aug. 20th.
Photos via Anders Krusberg/ Warner Bros