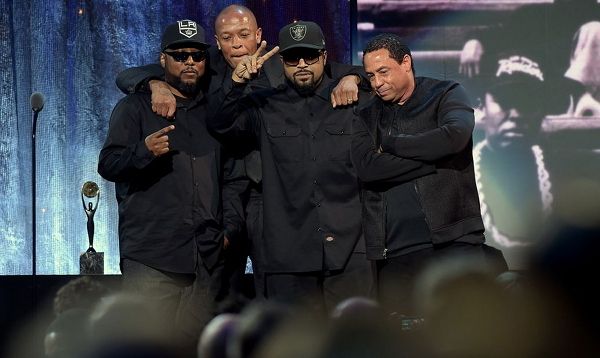 Saturday night, hip hop got the respect it is due when members of N.W.A were inducted into the Rock & Roll Hall of Fame. We've got their inspirational speeches inside that have us wanting to give somebody a G'd up Ice Cube stare, plus Kendrick Lamar's unapologetically Compton intro….
Hip Hop took a hit this week when Gene Simmons said in Rolling Stone that he can't wait till hip hop dies. Well, N.W.A just solidified their place, and hip hop's place, in music history. And he will deal.
Ice Cube, Dr. Dre, DJ Yella, MC Ren and the late Eazy E's mother Kathie Wright all took the stage at the Brooklyn Barclays Center.
Cube, who's releasing his Barbershop: The Next Cut flick next weekend, let the crowd know his stance saying:
Now, the question is, are we rock & roll? And I say you goddamn right we rock & roll. Rock & roll is not an instrument, rock & roll is not even a style of music. Rock & roll is a spirit. It's a spirit. It's been going since the blues, jazz, bebop, soul, R&B, rock & roll, heavy metal, punk rock and yes, hip-hop. And what connects us all is that spirit. That's what connects us all, that spirit. Rock & roll is not conforming to the people who came before you, but creating your own path in music and in life. That is rock & roll, and that is us.
Then O'Shea did something we rarely see him do, and that's gush about those he loves:
I'd like to thank my parents, Doris Mosie Jackson, my brothers and sisters, Clyde, Pat, Sophie, for putting up with them turntables and speakers and all that damn noise we was making. I'd like to thank my lovely wife, Kimberly. Who's been there since day one, through the thick, the thin, and the thick again. And my kids. Darrell, O'Shea, Jr., Karima, and Sharif. Thank you for putting up with this crazy life of mine in entertainment. This crazy schedule. You guys make everything normal for me. You guys make everything normal and I love y'all for that.
He ended his acceptance speech saying:
So rock & roll is not conforming. Rock & roll is outside the box. And rock & roll is N.W.A. I want to thank everybody who helped induct us into the Rock & Roll Hall of Fame, and I just want to tell the world, "Damn, that shit was dope."
By the way, he told the NYT on Friday that the group wasn't performing because they didn't really get the support to do so.
'Nah, we're not performing. I guess we really didn't feel like we were supported enough to do the best show we could put on. Pretty much, yeah. We wanted to do it on a whole other level, and that just couldn't happen. But we're totally honored, humbled and appreciative to the Hall for even just considering us, inducting us and inviting us.'
Dr. Dre spoke up at the ceremony saying:
"…this is proof, to all the kids out there, growing up in places like Compton, that anything is possible. Feel me? Me and the guys standing right here? We're absolutely no different or better than any of you. Feel me. Feel me. You just have to find that thing that's special about you that distinguishes you from all the others and through true talent, hard work, and passion, anything can happen. Never let them talk about it!
MC Ren shut down Gene Simmons during his speech, just days after the KISS co-lead singer dissed hip hop saying he couldn't wait for it to be over.
"I want to say to Mr. Gene Simmons that hip-hop is here forever," Ren said. "We're supposed to be here." While most of the Barclays Center responded with cheers, a few sour boos could be heard throughout the venue, either in protest to hip-hop or in Simmons' defense.
And DJ Yella said:
"I'd like to thank a couple of women tonight. First of all I'd like to thank Eazy's mother right here. Come up here. This is my new Mom now. I call her Mom all the time. You ready to go to the casino, Mom? And I'd to thank another Ms. Wright, Tamika Wright. I'd like to thank you very much. I'd like to thank my wife, two and a half years… Take a picture honey. That is my soulmate for the rest of my life."
Get all of their speeches in full HERE.
Compton's (new) prodigal son Kendrick Lamar took the stage to introduce the legends, who he called his "black superheroes."
He gave each of the fellas their due. He told MC Ren:
MC Ren, the motherfucking – can I cuss? MC Ren, the motherfucking villain! The name is just not self-proclaimed. It was proven every single time he stepped behind that microphone.
On Cube:
Cube! Where y'all at? I said Ice Cube? Storytelling genius. Every bar had us hanging over our seats. Punchline, delivery, detailed imagery made you get just a small glimpse of how it was growing up in the city of Compton, you dig what I'm saying? Cube was always proving to be one of the greatest MCs to ever step behind the mic, and on a personal level, my debut album, you was the blueprint on how I went to approach it.
And he of course sang the priases of Dr. Dre:
Doc Dre! Dr. Dre! The scientist! The perfectionist. The producer extraordinaire. My mentor, you dig what I'm saying? This dude here taught me a lot as far as never being satisfied with the work you do, on and off the record…
Dre has provided N.W.A with unapologetic production made on high-level soundtracks for hardcore lyrics. You could never press play without having an extra pair of Kenwood speakers. You know what I'm talking about, woofers! You know what I'm saying? Tweeters! …read more