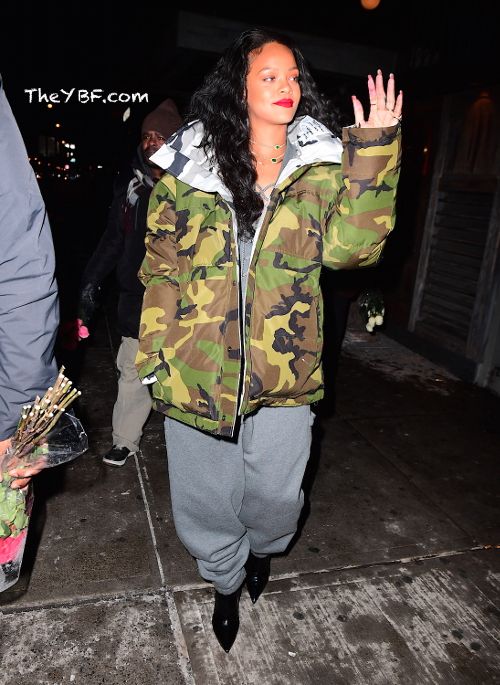 Rihanna can literally wear a trash bag and make it look good. Go inside to peep her latest flicks, plus find out the real reason Derrick Rose was a no-show for the Knicks game last night inside…
Walking billboard alert!
If its one thing Rihanna knows how to do its rocking her own threads in the most stylish of ways.
The "Work" singer was spotted braving the NYC cold weather to make her way inside Tao for dinner last night. Keeping it comfortably cute, the Bajan beauty rocked a gray oversized fleece jumpsuit from her FENTY x PUMA collection paired with patent leather Balenciaga ankle booties. She finished her look with a VETEMENTS X Canada Goose reversible camo parka to keep warm.
Be careful Rih!
In music news, RiRi took over Nielsen's Top 10 list of on demand audio streams. And she did it with her homie-lover-friend Drake. "Work," featuring Drake, "Needed Me" and Drizzy's "Too Good" made the cut.
Congrats!
In sports news…
NY Knicks baller Derrick Rose went AWOL before the Knicks hit the court against the New Orleans Pelicans at Madison Square Garden last night. No one knew where he was. Even Knicks head coach Jeff Hornacek had no idea where he was. He didn't call, text, send a smoke signal…nothing.
There were rumors that the star point guard had jetted to his hometown of Chicago to handle a family emergency. And the rumors were true.
Speaking with reporters today, Derrick revealed a family emergency came up (something to do with his mother) and he just had to make it home to tend to the issue. "I just had to get to my family," he said.
We guess a quick text to the folks who sign his checks just wasn't in the cards.
He said he spoke with his teammates and coach after the game and apologized. Everyone totally understood and everything is good. Peep the clip above.
Derrick will be fined by the knicks and he WILL play in tomorrow night's game in Philly.
Photos: Splash