By _YBF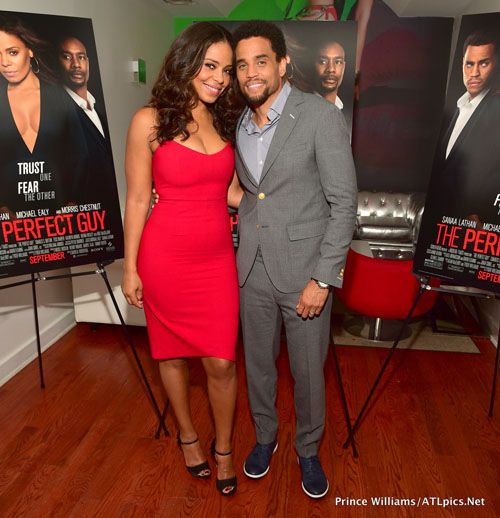 Sexy stars Sanaa Lathan and Michael Ealy are on the promo trail for their upcoming erotic thriller The Perfect Guy. Last night, the twosome hosted a Q&A in Atlanta and we have the hot pics. Check 'em inside….
The fabulous Sanaa Lathan and handsome hunk Michael Ealy are starring in a new thriller that we can't be the only ones excited about seeing. The Perfect Guy is a suspense-filled, sitting on the edge of your seat, sexy meets CRAZY type of flicks. And we're twiddling our thumbs waiting on its juicy arrival.
Last night, stars Sanaa and Michael (sans Morris Chestnut who was at FOX's TCA Summer Tour event) arrived at Time Restaurant in Atlanta for a Q&A to promote their upcoming flick, set to hit theaters September 11th.
If Michael wasn't married and Sanaa wasn't giving French Montana the time of day, they would make one hot ass couple. Just sayin'….
The UPSCALE magazine cover girl shut it down in a fiery red number that fit her curves like a glove. She finished her look with a pair of black sandals and topped it off long wavy tresses.
The blue eyed actor got dapper in a gray suit but decided on comfort when it came to his shoes, rocking a pair of black kicks to finish his look.
HGTV host Egypt Sherrod was on hand to moderate the Q&A. But before she got to her duties, she snapped up with the stars before the session.
And as you know, nothing is official until you snap an "us-ie." Cute.
After taking their seats, Sanaa and Michael dished on their erotic thriller where Sanaa will star as Leah, a lobbyist who seems to live the ideal life, except having major issues in the love department.
Her character has been a long-term relationship with Dave (played by Morris Chestnut) and she's ready to take things to the next level: marriage, kids, the white picket fence. You know, the fantasy many women dream about. But, Dave isn't ready. In comes the charming lunatic…we mean Carter Duncan (played by Michael).
Once she starts hooking up with Carter, everything seems perfect up until he reveals his true self, which is all types of deranged and crazy. And that's when things go totally left.
Will she come out alive? We don't know. But we do know we REALLY want to hate Sanaa for having the oh-so-tough job of juggling two ridiculously fine men as her love interests…as a job.
Check out the titillating trailer below:
The Perfect Guy hits theaters September 11th. Get ready!
Photos: ATLpics.net