FARGO, N.D. – Sen. Heidi Heitkamp, D-N.D., kept constituents in suspense for weeks before ultimately deciding she will be a "no" on Brett Kavanaugh's confirmation to the Supreme Court.
The entire time, Rep. Kevin Cramer, R-N.D., who is challenging Heitkamp for her Senate seat in North Dakota, was capitalizing on the way Democrats in Washington, D.C. have been dragging the process out.
He now leads Heitkamp by 12 points, according to a Fox News poll.
"That spectacle proved to be perhaps the greatest political gift I've been given in a very long time," Cramer said.
Heitkamp's "no" vote could put her re-election bid in peril because roughly one in three North Dakota voters said this week if she didn't vote for Kavanaugh, they were less likely to support her in November.
The announcement of Heitkamp's decision came while senators were still reviewing the FBI's supplemental background check of Kavanaugh in a secure facility, and exactly one week after he and Dr. Christine Blasey Ford, the California woman accusing him of sexual misconduct, publicly testified before the Senate Judiciary Committee.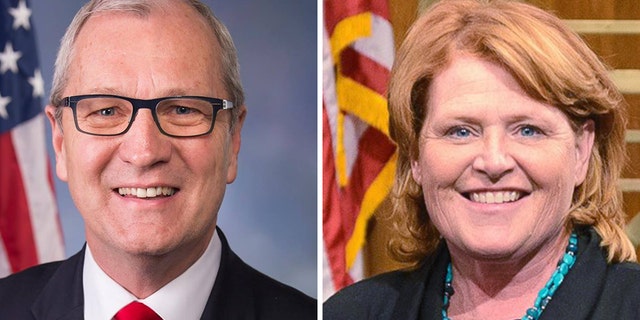 "In addition to the concerns about his past conduct, last Thursday's hearing called into question Judge Kavanaugh's current temperament, honesty, and impartiality," Heitkamp said in a statement.
Democratic donors weren't deterred by the prospect of Heitkamp voting "no" though, because she just posted her best fundraising quarter ever, raising $3.8 million.
"We have the largest field operation in the state's history," North Dakota Democratic Party spokesman Tom Bryant said.
President Trump enjoys a 64 percent approval rating in North Dakota, but part of the Democratic plan to keep Heitkamp's seat is to exploit uncertainty over agricultural tariffs favored by the White House.
"We're in the heart of harvest season right now, we've got people coming out of fields with soybeans every day," Bryant said.  "We're hoping that they have markets to go to, we know that's not always the case with some of the recent developments that have happened."
Cramer, like Heitkamp, sees a national connection to his challenge for the Senate seat.
"The majority might be in the hands of these 280,000 people," Cramer said about the number of voters expected to turn out. "This election in North Dakota may determine whether or not Bernie Sanders is the chairman of the Senate Budget Committee."