August is prime time for tasty and vibrant summer produce, like zucchini, peaches, tomatoes, corn, plums, berries, and so much more. Take advantage of the season's bounty from farm stands, markets, or even your own garden with these delicious summer recipes.
1. Burrata with Tomato Peach Jam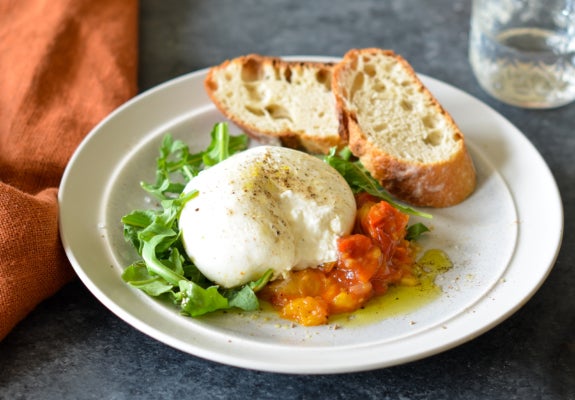 This summer appetizer has it all: peppery arugula, tangy-sweet tomato peach jam and a creamy rich burrata (fresh Italian cheese made from mozzarella and cream). Bonus – you can use the leftover jam throughout the week on burgers, grilled meats or fish and sandwiches. GET THE RECIPE
2. Cilantro Lime Sweet Corn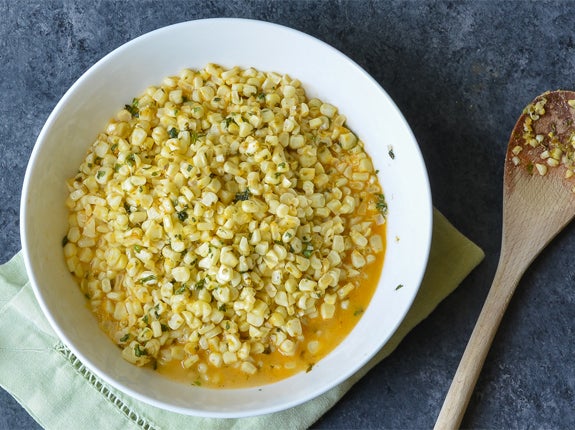 This stellar summer recipe comes from Vivian Howard's much-acclaimed Deep Run Roots: Stories and Recipes from My Corner of the South (Little, Brown and Company, 2016). It's ideal for entertaining because it can be made ahead. GET THE RECIPE
3. Double Chocolate Zucchini Bread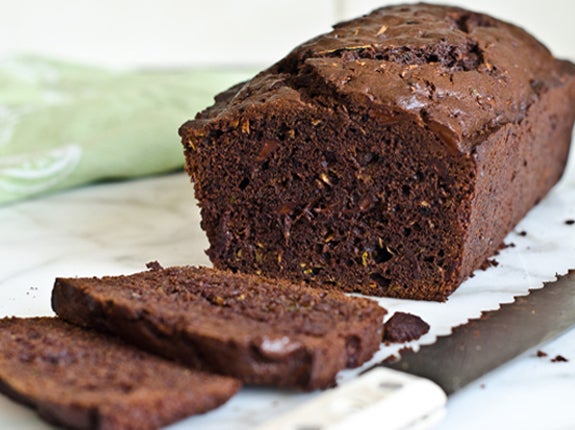 This quick bread makes the perfect afternoon snack whenever you're in need of a chocolate fix.  It has a deep chocolate flavor, yet it's not so sweet that it tastes like dessert. It's also loaded with zucchini, so there's some virtue in it. GET THE RECIPE
4. Stone Fruit Salad with Ginger-Lime Syrup and Mint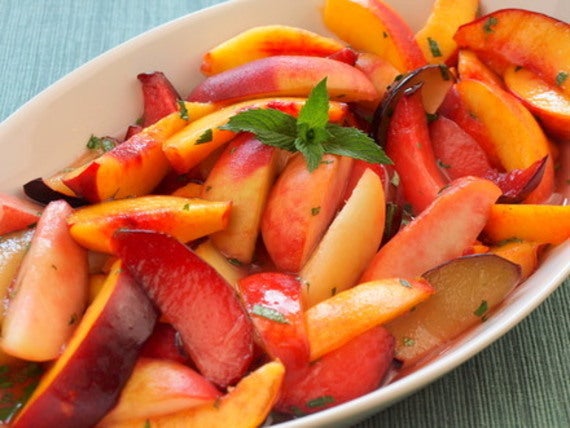 Sliced peaches, nectarines and plums go from simple to sublime when soaked in a refreshing ginger-lime syrup infused with fresh mint. GET THE RECIPE
5. Thai Cucumber Salad with Peanuts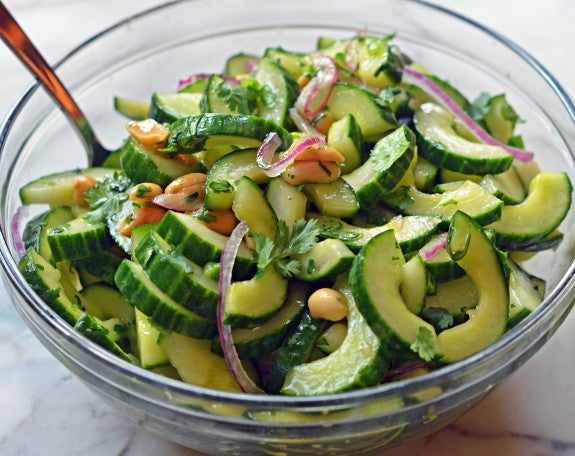 This refreshing Thai-style cucumber salad is a summer staple in my house. The dressing is tangy, salty and sweet – and the peanuts give it a satisfying, protein-packed crunch. GET THE RECIPE
6. Zucchini with Feta, Walnuts and Dill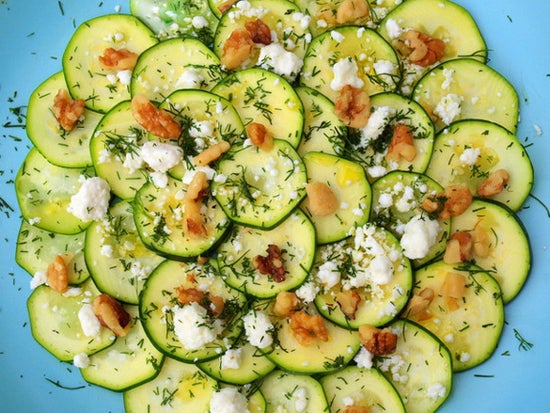 Who knew zucchini could be so pretty, refreshing, delicate and delicious? In this recipe, I've topped carpaccio-thin raw zucchini with feta, dill and walnuts. But it would be equally delicious with shaved Parmigiano-Reggiano, basil and pine nuts. GET THE RECIPE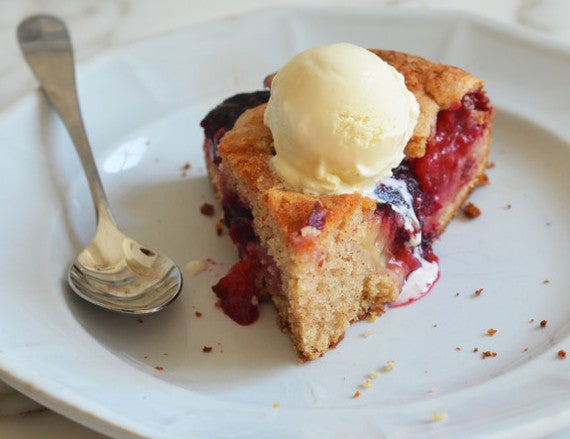 Fresh plums soften into jammy, mulberry-colored pockets as they bake into this simple summer cake. Serve it for brunch or dessert topped with vanilla ice cream or whipped cream. GET THE RECIPE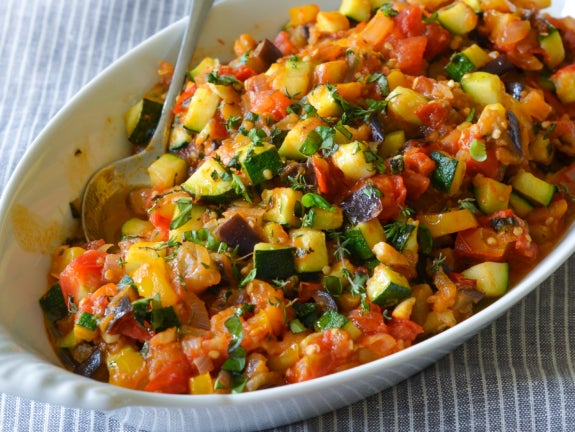 Ratatouille is a bright and chunky summer vegetable stew that hails from the south of France. Serve it alongside roasted or grilled meats and fish; make it shakshuka-style with poached eggs; toss it with pasta; or spoon it over grains or creamy polenta. GET THE RECIPE
9. Strawberry Frozen Yogurt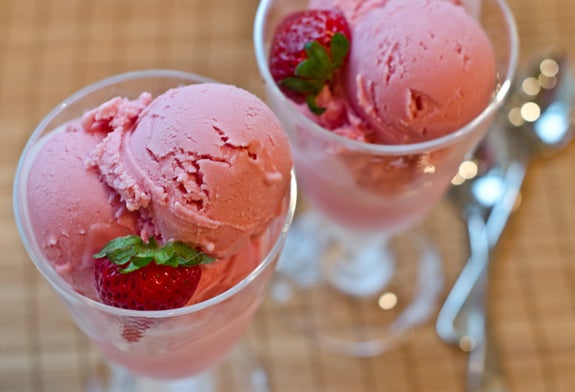 This strawberry treat bears no resemblance to store-bought frozen yogurt or the imitation ice cream served at most fro-yo shops. It tastes intensely of fresh strawberries, almost like a cross between strawberry frozen yogurt and strawberry sorbet. GET THE RECIPE
10. Roasted Pepper Salad with Feta, Pine Nuts & Basil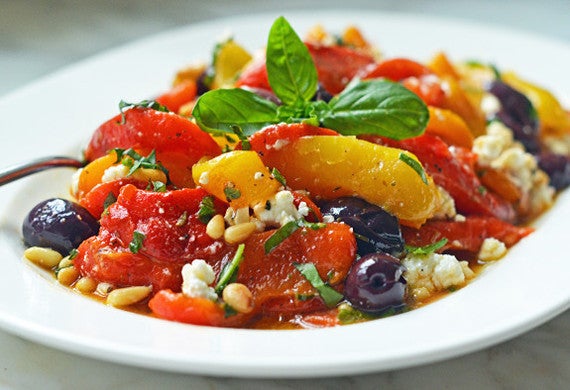 Next time you're asked to bring a veggie or salad to a summer party, try these sweet and smoky bell peppers topped with feta, toasted pine nuts, basil and olives. The salad looks gorgeous on a platter, and is delicious with toasted pita bread, grilled lamb burgers or chicken kebabs. GET THE RECIPE
11. Summer Corn Soup with Fresh Herbs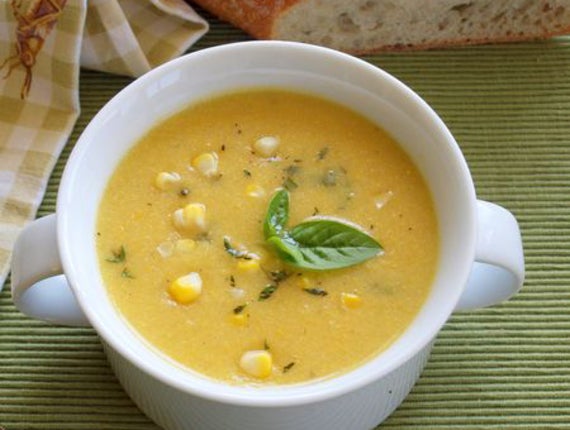 With only a few simple ingredients — butter, shallots, corn, chicken broth and fresh herbs — this soup has an intense corn flavor that tastes just like summer. GET THE RECIPE
12. Zucchini Walnut Bread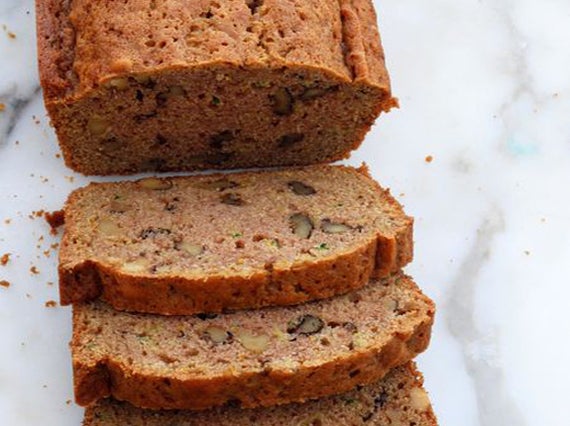 A good bit of zucchini goes into this recipe, but it miraculously disappears into the batter, and the result is a delightfully sweet quick bread that tastes more like spice cake than anything else. It's a great way to get your kids to eat zucchini. GET THE RECIPE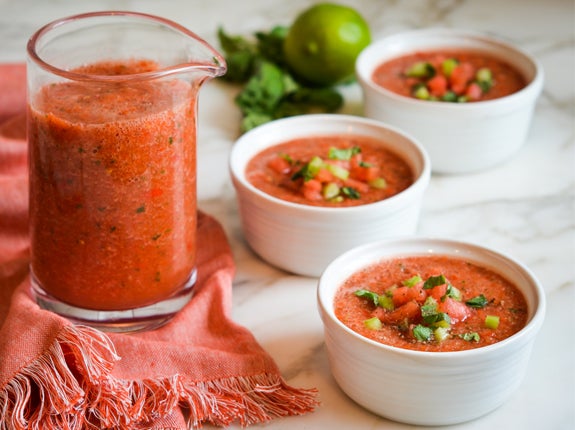 This fun twist on gazpacho comes from Juice Manifesto: More than 120 Flavor-Packed Juices, Smoothies and Healthful Meals for the Whole Family by Andrew Cooper (Chronicle Books, 2016). Ginger and chile give it a bit of a kick, and complement the sweetness of the watermelon. GET THE RECIPE.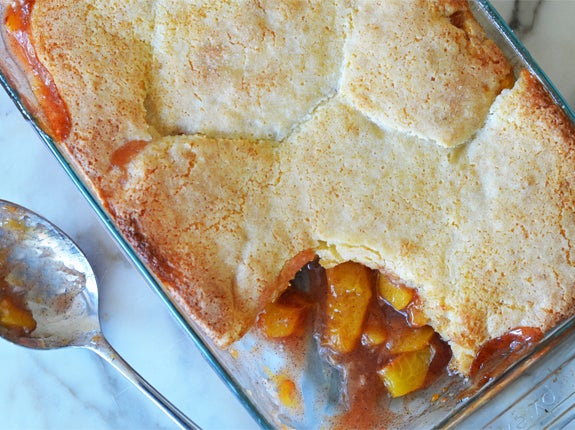 This easy and rustic dessert is made from sweet peaches, warm spices, and a homemade buttermilk biscuit topping baked until the fruit is tender and bubbling and the topping is crisp and golden. It's a great way to use up all your summer peaches, as well as any other fruit you'd like to mix in (blackberries would be wonderful). Be sure to add a scoop of vanilla ice cream or dollop of sweetened whipped cream on top! GET THE RECIPE