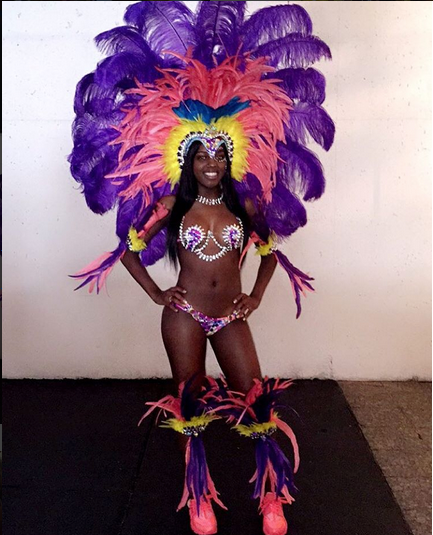 She's 20-something and looks amazing. Some folks on the net were giving her hell about being so scantily clad, and her pops Todd wrote on IG:
Look at my baby @kpt__ , she need some more damn clothes but she's an island girl and she looks beautiful! Come check her out in the Atlanta Caribbean festival parade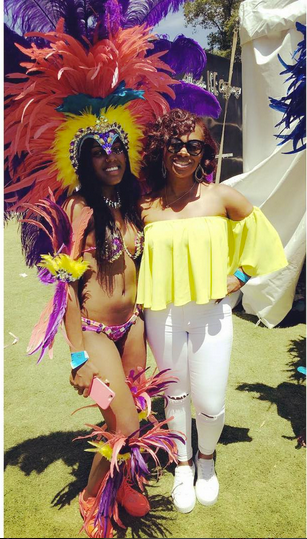 And she has her family's support.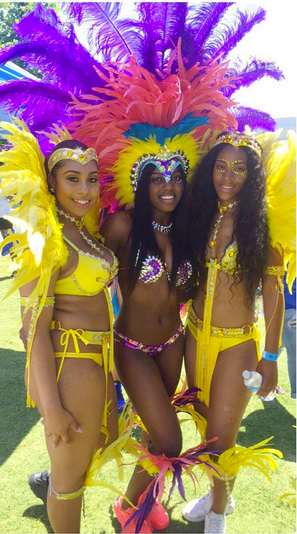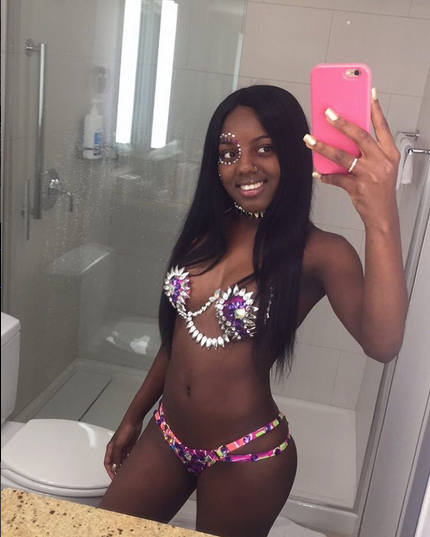 Celebs are flosssing their hot weather bodies this Holiday. Peep the fleekiness of Draya, Gucci Mane's post-jail weight loss, Cynthia Bailey, Kaela Tucker and more….

Vacay time! Mint Swim founder Draya Michele packed up her sexy swimwear and her fiancé and headed to Cancun. Of course, she took the opportunityt o show off her post baby snapback and all her new swimsuit designs:

We can't even lie. Chick looks hot and so do these swimsuits.

Her boo clearly thinks so too:

#DrayaMichele and fiance #OrlandoScandrick hit the beaches of #Cancun yesterday. Looks like things are all good with those two… #YBFCoupledom

A photo posted by TheYBF.com (@theybfdaily) on May 30, 2016 at 7:56am PDT

Over in Puerto Rico this Holiday, Cynthia Bailey is flossing like this:

She's there for the LGBT weekend and to sell some Cynthia Bailey Eyewear. Work.

Back in the States in the Hamptons:

EJ Johnson is serving the rich and the fabulous with a naughty look this Holiday. Such a show off. And we love it.

Down in Atlanta, Todd Tucker's daughter and Kandi Burruss' stepdaughter Kaela Tucker tapped into her West Indian roots to do it up for the Caribbean Festival:

She's 20-something and looks amazing. Some folks on the net were giving her hell about being so scantily clad, and her pops Todd wrote on IG:

Look at my baby @kpt__ , she need some more damn clothes but she's an island girl and she looks beautiful! Come check her out in the Atlanta Caribbean festival parade

And she has her family's support.

A video posted by K A E L A (@kpt__) on May 28, 2016 at 11:14am PDT

A video posted by K A E L A (@kpt__) on May 28, 2016 at 4:35pm PDT

Get it Kaela!

That prison diet has worked wonders for Gucci Mane:

His girl Keyshia Ka'oir has been sharing Snap vids and things of her man. Reportedly, Gucci lost 50 pounds while in the slammer. He did no carbs and lifted weights. And voila….brand new body just in time for Summer Sixteen.

Speaking of body:

Teyana Taylor plays no games when it comes to her snapback. And she reminds us often:

She posted some skin baring Memorial Day flicks with her fiancé Iman Shumpert, who is chillin' until next Thursday when the Cavs start the NBA Finals, and their baby girl Iman Jr.

We're not sure how this chick does it, but sheesh. Lookin' GREAT Teyana!

Photos: Instagram/Snap
Warning
: A non-numeric value encountered in
/home2/wadyk60ackgy/public_html/wp-content/themes/Newspaper/includes/wp_booster/td_block.php
on line
353