By _YBF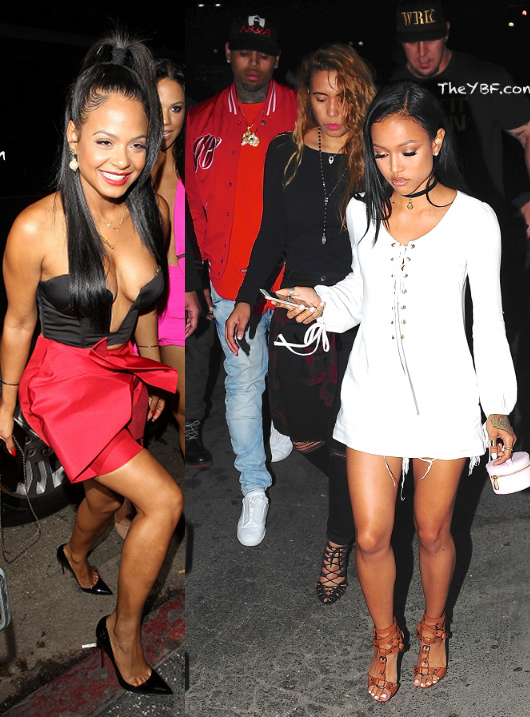 Karrueche Tran and Chris Brown were spotted together last night and an explosive shouting match broke out! Get all the deets on their fight inside…
R&B starlet Christina Milian hosted one of Hollywood's hottest parties last night at Club Playhouse. Today….the party is the talk of the town…but not because of the music. More on that later….
As you can see…Ms. Milian's party outfit left very little to the imagination. And if the outfit isn't enough, you can see MORE of Christina this fall (alongside John Stamos) in "Grandfathered."
Now…..the main event:
Christina's bestie Karrueche Tran came out to support her at the party, but from the looks of the pic above, she didn't count on running into her ex-boyfriend Chris Brown. Based on reports and eyewitnesses, the evening went downhill once Breezy showed up in his Lambo….we'll explain.
According to TMZ, Chris popped up in the V.I.P. section and got a table right next to Karrueche. Unfortunately for Chris, she wasn't happy to see him. In fact, she left the club. But, Chris followed her outside like a lovesick puppy (pic above).
Things got more intense as KT approached her SUV. Although KT's group of friends told Chris they didn't want him inside, he got into the vehicle anyway.
If you listen closely to the video below, you'll hear one of KT's friends (above) tell Chris to stay out of their SUV. Of course…he didn't listen.
Obviously…it was a SHORT ride, as KT's driver eventually dropped Chris back off at the club (remember…he drove there in his Lambo). But wait….there's more!
Chris allegedly showed up on Karrueche's doorstep around 3:30 AM, banging and yelling. The noise was so loud that one of Karrueche's neighbors called the cops. (Watch video of the cops arriving here). As far as we know, the cops didn't question Chris or Karrueche.
From this point – it's reported that KT left her home (after Chris banged on her front door) and fled to Norm's Diner – but Chris showed up there too! Inside the diner, witnesses say the two got into a nasty shouting match before Karrueche eventually left….alone. SMH….
Youll recall that Chris showed he's still got strong feelings for Karrueche during his ridiculous social media fight with Tyson Beckford a few days ago. He's not ready to move on…
We'll keep you posted on this one…
EXTRAS:
1. Rapper The Game has been charged with a felony for the fight he got into during a basketball game in March. Story.
Photos via Splash News