By _YBF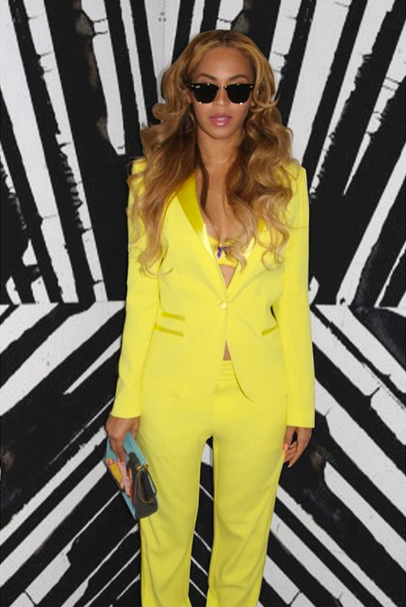 Beyonce has been making a few bold fashion moves while making her rounds in NYC. Peep her bright, bold look and her play on prints inside….
Beyonce has been quite busy making moves in NYC recently. Hitting up meetings, spending time in the studio and a casual night out with her husband Jay Z here and there, like his B-Sides concert Sunday night. She has literally been all over the place.
As she makes her moves around the Big Apple, Queen Bey has been bringing some hot looks straight from the streets (and her basement). For today's look, the "Flawless" one grabbed a neon colored pantsuit with a hint of sexy, rocking only a matching neon bra underneath.
Before hitting the streets, she did a mini-photoshoot for the 'gram. Of course.
Then she was spotted tipping through the streets towards her next destination, toting a Charlotte Olympia Flirty magazine clutch.
Bey the Boss is ready to work!
Yesterday….
The "7/11" singer and her bleach blonde tips served up an interesting look.
For her NYC errands, the 33-year-old singer rocked a Stella Jean "Barbagianni" checked midi skirt paired with a "Lone Star" crop top and a Stella Jean "Gazza" striped cotton blazer.
After a few IG shots, she hit the streets with her hubby Jay Z:
They were spotted leaving their office building before a night out on the town in SoHo.
Oh…and before she headed out, Beyonce made this funny video clip of her dancing to a track by VA native D.R.A.M. titled "CHA CHA":
A video posted by Beyoncé (@beyonce) on May 19, 2015 at 4:17pm PDT
Ha!
EXTRAS:
1. Jay Z is poppin' back performance artist Marina Abramović, the whoman who has accused him of failing to make a promised donation to her performance art institute after she appeared in "Picasso Baby" music video. And he has receipts. STORY
Photos: Splash/Pacific Coast News/Beyonce's IG