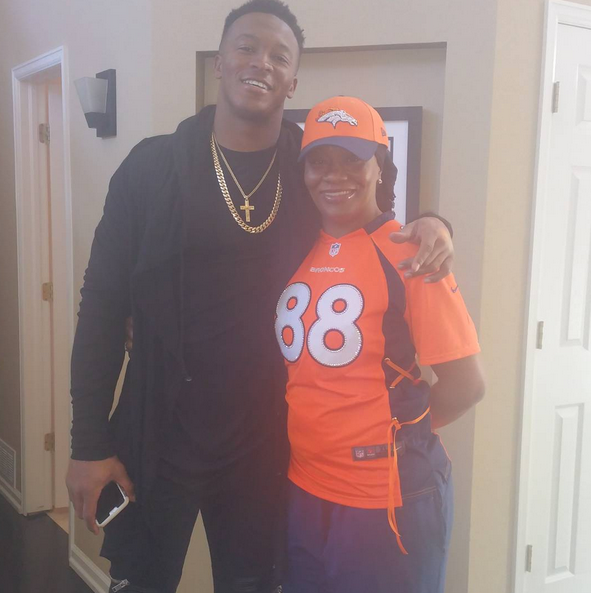 Get your tissues! Denver Broncos wide receiver Demaryius Thomas is currently on cloud 9. Not only did he and his team advance to the Conference Championship game, but he also played his FIRST NFL game in front of his mother! Find out how President Barack Obama made it happen inside…
Sunday's divisional game was an emotional one, but for more reasons than one.
The Denver Broncos knocked out the Pittsburgh Steelers, 23-16, during the NFL's divisional round as teams try to beat their opponents to make it to the Super Bowl. The Broncos were victorious with a win. And for wide receiver Demaryius Thomas this win was super special…a day he'll live to remember forever.
The playoff game was the very first NFL game his mom, Katrina Smith, allowed to attend. President Obama pardoned the 46-year-old non-violent first-time offender over the summer where she had served 15 years in federal prison.
Katrina got locked up back in 2000, when Demaryius was just 12-years-old, on drug trafficking charges. Since being released, she wasn't able to travel. But, this past Sunday was the first day she could leave, so she made her way to see her son out on the field. Aww….
And mama came to rep here baby. She rocked a customized jersey with her son's number and her nickname across the back.
After the win, quarterback Peyton Manning gifted Katrina with the game ball. Sweet!
Demaryius talked to reporters after the game and couldn't help but gush over how happy he was that his mother was there. "It's very special," he said. "She came out, got to see us win a game, her first time here, her first time seeing me play. It felt great, a really special feeling."
Loves it !
Major congrats to the Broncos AND the Carolina Panthers to advancing to the Conference Championship game. The Broncos will battle against the New England Patriots and the Panthers wil go head-to-head against the Arizona Cardinals on Sunday. Who do you have?
Photos: @queenbellas